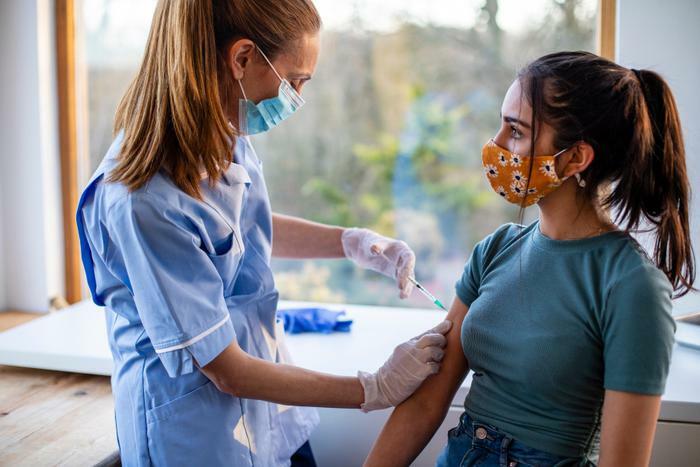 Coronavirus (COVID-19) tally as compiled by Johns Hopkins University. (Previous numbers in parentheses.)
Total U.S. confirmed cases: 30,399,372 (30,335,188)
Total U.S. deaths: 551,118 (550,121)
Total global cases: 128,421,931 (127,818,432)
Total global deaths: 2,807,094 (2,794,820)
Pfizer reports 100 percent efficacy in tests on adolescents
It could soon be the kids' turn to roll up their sleeves. Pfizer and BioNTech report that their coronavirus (COVID-19) vaccine showed 100 percent efficacy on adolescents aged 12 to 15.
In a Phase 3 clinical trial of 2,260 adolescents, not one of the children who received the vaccine developed the virus. At the same time, 18 of the children who received a placebo instead of the vaccine tested positive. The study may have been small, but the companies say the results are highly encouraging.
Albert Bourla, Pfizer's CEO, said the companies plan to submit the data to the U.S. Food and Drug Administration (FDA) as a proposed amendment for authority to vaccinate members of that age group. If granted, he says millions of children could be vaccinated well before the fall school term.
New cases dip slightly while deaths rise
The ebb and flow of the virus shifted this week. Health officials report a slight decline in the number of newly reported cases of COVID-19. At the same time, deaths from the virus, which had been trending lower, rose.
The COVID-19 Tracking Project at Johns Hopkins University reported slightly more than 60,000 new cases for Tuesday, down from 69,419 the day before. Health officials this week had expressed growing concern that rising cases might signal a new wave of the virus.
But the same dataset suggests that there were 804 deaths linked to the virus on Tuesday, up from 701 a day earlier. Health experts say deaths have been a lagging indicator throughout the pandemic, and this week's rise in deaths may be related to the increase in cases over the last four weeks.
CDC: COVID-19 was the third-leading cause of death last year
It may come as no surprise, but COVID-19 was listed as the third-leading cause of death in the U.S. in 2020. Heart disease remained number one and cancer was second.
A new report from the Centers for Disease Control and Prevention (CDC) shows that there were 3.3 million deaths in the U.S. last year, with most of the deaths taking place between April 11 and Dec. 26.
The report says COVID-19 was listed as the underlying cause for 345,323 deaths, making it more lethal than unintentional injuries, strokes, chronic lower respiratory disease, Alzheimer's disease, diabetes, influenza, pneumonia, and kidney disease.
More organizations eye a return to the office
With vaccinations increasing, more companies are beginning to consider returning employees to the office. Wells Fargo announced this week that it's aiming for September as a date when it would be safe for employees to return to an office environment. 
JLL, a corporate consultancy, says organizations have an unprecedented opportunity to redefine how their spaces evolve to promote health and well-being. It says the goal should be offices that support a healthy post-pandemic workplace.
"A healthy workplace is one that promotes employees' physical, mental and social well-being," said Cynthia Kantor, chief product officer at JLL Corporate Solutions. "Creating that type of environment in the post-pandemic world will require taking a holistic, integrated approach to enhancing workplaces through improvements to the physical environment, enhanced policies, and procedures and the creation of continuous programming that bolsters a culture of health and well-being."
More Americans say the pandemic has delayed retirement plans
The year-long pandemic has been a major economic hardship on millions of people, as the unemployment numbers attest. But even people who managed to hang onto their jobs and are considering retirement have been affected.
A survey from Nationwide found that one in five Americans say they will likely postpone retirement because of the pandemic. Younger adults seem to be having the hardest time, with 62 percent of millennials and 51 percent of Gen Xers saying the pandemic has made their finances more complicated, compared to only 27 percent of baby boomers.
"COVID-19 has many Americans feeling financially insecure, especially younger ones," said Eric Henderson, president of Nationwide's Annuity business. "This presents an opportunity for financial professionals to not only get clients back on track, but ensure they have the right tools and education on topics like taxes in retirement, which can get them closer to their long-term goals."
Around the nation
Arizona: People with disabilities are eligible to receive a COVID-19 vaccine in several states, but logistics can sometimes be difficult for them. In Arizona, Ability360, a non-profit group, has announced it will host a series of vaccination events at its campus in Phoenix geared toward people with disabilities.

Texas: Texas has reopened just about everything and has removed the statewide mask mandate. It has also cleared the way for kids to attend summer camp, but with some safeguards. Gov. Greg Abbott said Texas will provide state-licensed summer camps with COVID-19 rapid tests in an effort to prevent potential outbreaks.

New Jersey: Gov. Phil Murphy has signed an executive order that allows wedding venues in some areas to host events with an indoor capacity of 35 percent, or 150 people. "We're excited that some of our family members can fly in from out of state, and just being able to get together and celebrate a happy moment after this last year we've been through," said Gina Vitale, who was married March 6 but is restaging the ceremony in front of guests.