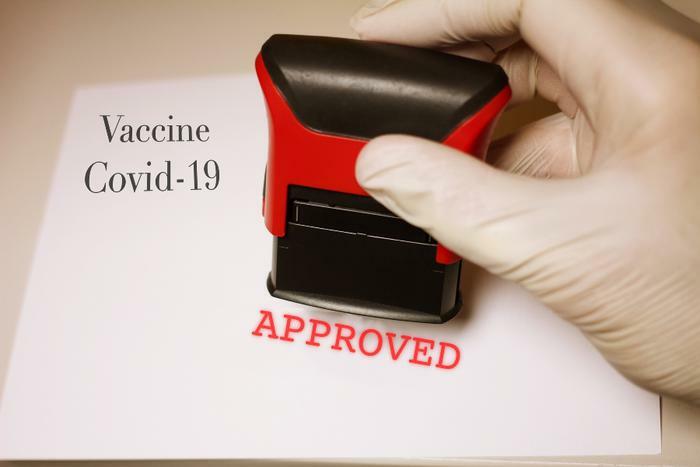 Coronavirus‌ ‌(COVID-19)‌ ‌tally‌ ‌as‌ ‌‌compiled‌‌ ‌by‌ ‌Johns‌ ‌Hopkins‌ ‌University.‌ ‌(Previous‌ ‌numbers‌ ‌in‌ ‌parentheses.)‌
Total‌ ‌U.S.‌ ‌confirmed‌ ‌cases:‌ 37,725,260 (37,678,088)‌
Total‌ ‌U.S.‌ ‌deaths:‌ 628,580 (628,342)
Total‌ ‌global‌ ‌cases:‌ 212,073,519 (211,471,882)
Total‌ ‌global‌ ‌deaths:‌ 4,435,581 (4,429,183)‌
FDA grants full approval of Pfizer vaccine
The U.S. Food and Drug Administration (FDA) has granted full approval to the COVID-19 vaccine produced by Pfizer and BioNTech. It, along with the vaccines from Moderna and Johnson & Johnson, had been administered under emergency use authorization.
"The FDA's approval of this vaccine is a milestone as we continue to battle the COVID-19 pandemic," said Acting FDA Commissioner Dr. Janet Woodcock. "While this and other vaccines have met the FDA's rigorous, scientific standards for emergency use authorization, as the first FDA-approved COVID-19 vaccine, the public can be very confident that this vaccine meets the high standards for safety, effectiveness, and manufacturing quality the FDA requires of an approved product."
Health officials said they hope the approval persuades more people to get vaccinated. Some people have based their refusal to be vaccinated on the fact that none of the available vaccines had full FDA approval.
Hospitalizations among children rise sharply
Children under 12 can't get the COVID-19 vaccine yet, and doctors say that is making them highly vulnerable to the fast-spreading Delta variant. An analysis of recent data shows that hospitalizations among children have risen sharply in the South and Midwest.
Health officials expect even more pediatric cases as schools reopen. While children appeared less vulnerable to the original strain of the virus, the Delta variant is making many children sick enough to require hospital care.
According to the Wall Street Journal, Children's Hospital New Orleans has treated as many as 20 children for the coronavirus at a time during August. Hospital officials say that last year, the number was never higher than seven.
Another study finds weaknesses in cloth masks
If you have decided to wear masks in public, as many jurisdictions are strongly advising, it just might pay to wear a really good one. A new study concludes that cloth masks aren't that effective at preventing transmission of the virus.
Canadian researchers at the University of Waterloo found a large buildup of aerosol droplets suspended in the air when it had subjects wear cloth masks in a large room. The researchers found N95 or KN95 masks were much more effective at containing droplets.
"There is no question it is beneficial to wear any face covering, both for protection in close proximity and at a distance in a room," said Serhiy Yarusevych, who led the study. "However, there is a very serious difference in the effectiveness of different masks when it comes to controlling aerosols."
Around the nation