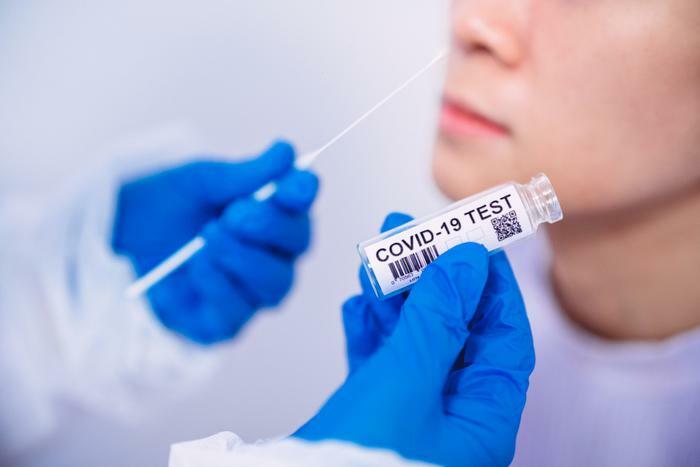 Coronavirus (COVID-19) tally as compiled by Johns Hopkins University. (Previous numbers in parentheses.)
Total U.S. confirmed cases: 30,548,745 (30,467,164)
Total U.S. deaths: 553,241 (552,246)
Total global cases: 129,803,473 (129,083,807)
Total global deaths: 2,830,518 (2,819,141)
FDA authorizes new over-the-counter COVID-19 tests
The U.S. Food and Drug Administration (FDA) has approved the sale of the first over-the-counter fast-results coronavirus (COVID-19) tests that consumers with no symptoms can take at home on an ongoing basis.
The FDA authorized BinaxNOW, a COVID-19 antigen self-test produced by Abbott Labs. It also authorized the Quick Vue test by Quidel, a diagnostic health care product manufacturer.
Previous at-home tests required a prescription and were supervised by a virtual proctor. A spokesperson for Abbott told ABC News that the tests are expected to be sold in packs of two and will cost under $10 dollars.
Feds will investigate J&J vaccine fail
The FDA plans to launch an investigation into the manufacturing issue that caused the loss of 15 million doses of the Johnson & Johnson vaccine, according to The Wall Street Journal. The vaccine doses were tossed out after they failed to meet quality standards.
According to the report, the agency is expected to dispatch an inspection team to assess the situation at the Baltimore plant operated by a J&J contractor, Emergent BioSolutions Inc.
The batch of suspect vaccine doses never reached the vial-filling and finishing stage, and the company says no doses from it were distributed to vaccination centers.
Unvaccinated people urged to remain cautious
Millions of Americans have now been vaccinated against COVID-19, but many millions more have not. Health experts are pleading with the unvaccinated population to wait before trying to resume normal activities.
"Please wait until you're fully vaccinated before you're traveling, before you're engaging in high-risk activities," said CNN Medical Analyst Dr. Leana Wen. "No doubt when you become vaccinated, the activities that were once higher risk are now going to be lower risk and so just wait until then."
A recent report by the Centers for Disease Control and Prevention (CDC) suggests that people who have been fully vaccinated are highly unlikely to become infected or pass the virus on to those who haven't been vaccinated.
Employment surge in March suggests the pandemic is fading fast
The COVID-19 pandemic hit with full force in March 2020, forcing a shutdown of much of the economy for several weeks and eliminating more than 700,000 jobs. In a sign that the pandemic has begun to fade, the Labor Department reports that the economy added 916,000 jobs last month.
"These improvements in the labor market reflect the continued resumption of economic activity that had been curtailed due to the coronavirus (COVID-19) pandemic," said William Beach, commissioner of the Bureau of Labor Statistics. "Job growth was widespread, led by gains in leisure and hospitality, public and private education, and construction."
The nation's unemployment rate dropped to 6 percent in March, considerably lower than its recent high in April 2020. However, it is 2.5 percentage points higher than its pre-pandemic level in February 2020. 
Working from home ending soon for some
Some employees have enjoyed working remotely for the last 12 months, but those Zoom meetings while wearing pajama bottoms and afternoon naps may be coming to an end. Increasingly, major employers are stepping up their timelines for reopening their offices.
LaSalle Network, a staffing firm, recently reported that 70 percent of corporate respondents in its survey said they plan to phase employees back in by this fall. 
Even though surveys have shown that remote work has largely been a success, with little decline in productivity, sentiment appears to be shifting to returning employees to a central workspace. In a memo to employees, leaked to Business Insider, Bloomberg founder Michael Bloomberg said he expects employees to return to the office as soon as they receive a COVID-19 vaccine.
Around the nation
New York: New York has lifted its mandatory two-week quarantine for people coming from out of state, a sign that things are starting to return to normal. But state health officials still recommend people entering the state voluntarily isolate for 14 days.

Oregon: State officials have stepped up the expansion of vaccination eligibility. Frontline workers -- those working around people outside of their household -- are now eligible to get the vaccine in 20 Oregon counties, putting them five days ahead of the original schedule.

Wisconsin: While overall cases of COVID-19 held steady this week, health officials are reporting a spike in cases involving highly contagious variants. The Department of Health Services reported 139 cases of variant B.1.1.7 on Thursday, which is the variant that was originally discovered circulating in England.