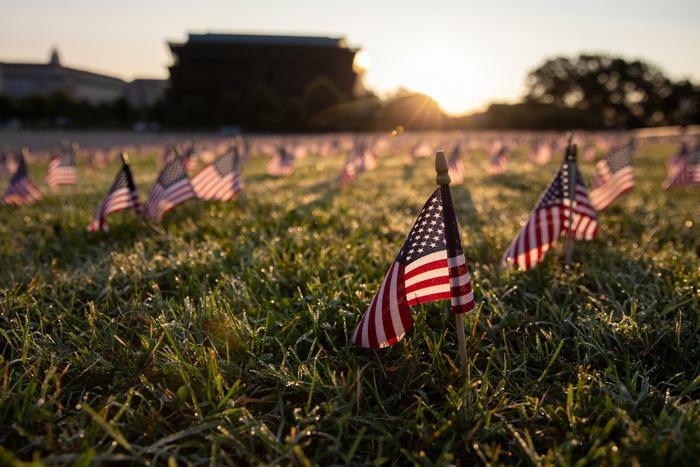 Coronavirus‌ ‌(COVID-19)‌ ‌tally‌ ‌as‌ ‌‌compiled‌‌ ‌by‌ ‌Johns‌ ‌Hopkins‌ ‌University.‌ ‌(Previous‌ ‌numbers‌ ‌in‌ ‌parentheses.)‌
Total‌ ‌U.S.‌ ‌confirmed‌ ‌cases:‌ 43,694,842 (43,607,242)‌
Total‌ ‌U.S.‌ ‌deaths:‌ 701,312 (700,418)
Total‌ ‌global‌ ‌cases:‌ 235,058,353 (234,914,862)
Total‌ ‌global‌ ‌deaths:‌ 4,804,273 (4,795,272)‌
U.S. deaths exceed 700,000
The latest wave of COVID-19 cases has begun to recede, but U.S. deaths crossed a milestone over the weekend. Officials have now attributed more than 700,000 deaths to the virus. The U.S. remains the world leader in COVID-19 deaths, with Brazil being the next-closest country.
Because it is so contagious, the Delta variant is responsible for the latest surge in cases. But frustrated health officials say the latest increase in deaths is largely due to many people refusing to be vaccinated. Research suggests that vaccination reduces the risk of severe COVID-19 symptoms or death.
"If you're not vaccinated or have protection from natural infection, this virus will find you," warned Mike Osterholm, director of the University of Minnesota's Center for Infectious Disease Research and Policy, told NPR.
Johnson & Johnson reportedly wants booster approval
Johnson & Johnson may be the next vaccine maker to ask for approval of its booster shot. The New York Times reports that the drug company will ask the U.S. Food and Drug Administration (FDA) for booster shot approval later this week.
The FDA has scheduled a meeting of its advisory committee next week to discuss whether it should authorize the Johnson & Johnson booster. The Pfizer vaccine is currently the only U.S. vaccine approved for booster shots for certain individuals.
Johnson & Johnson has previously released its own research that shows the second shot of its vaccine increases effectiveness against the virus to 94%, compared to 70% for the single dose.
Doctors say it may be hard to tell COVID-19 from the flu
The 2020-2021 flu season was almost non-existent, thanks to social distancing, masks, and other virus mitigation measures. But health experts say this flu season is likely to be much worse, and you may have trouble distinguishing the seasonal sickness from the coronavirus.
That's because so many people have now been vaccinated. Even though they can still get COVID-19, the symptoms among vaccinated people are relatively mild and very similar to the flu.
Doctors suggest that people seek testing if they develop symptoms that could be either flu or COVID-19. A PCR test -- the kind you get at a pharmacy or doctor's office and is processed by a lab -- is still the most sensitive and accurate way to detect the virus. 
Around the nation