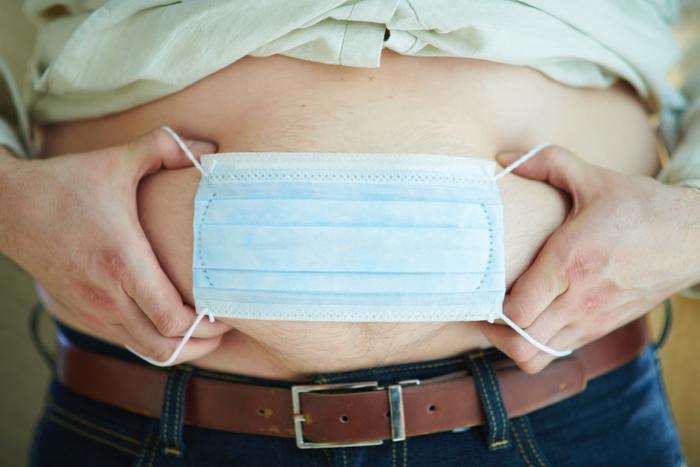 Coronavirus (COVID-19) tally as compiled by Johns Hopkins University. (Previous numbers in parentheses.)
Total U.S. confirmed cases: 5,788,185 (5,746,940)
Total U.S. deaths: 178,758 (177,536)
Total global cases: 23,951,902 (23,694,646)
Total global deaths: 820,835 (814,354)
Obesity a major risk factor
It's been known from the start that patients who are older or have underlying health conditions are at greater risk of dying from the coronavirus (COVID-19). Now researchers say patients who are obese also have an elevated mortality risk.
A comprehensive study using global data put the increased death risk as high as 50 percent and suggested vaccines against the virus may be less effective for obese patients.
The study at the University of North Carolina at Chapel Hill also found that being obese increased the chances of hospitalization by 113 percent. Their risk of requiring intensive care is 74 percent greater than people of normal weight.
Researchers caution on the use of antibiotics
British researchers have published a study suggesting that the use of antibiotics to treat people with COVID-19 could result in increased resistance to the drugs' benefits among the wider population.
The researchers express concern that patients being treated in hospitals are being given a combination of medications to prevent possible secondary bacterial infections.
Writing in the Journal of Antimicrobial Chemotherapy, the scientists say this could lead to raised levels of antibiotics within the U.K.'s rivers or coastal waters, which may in turn result in an increase in antimicrobial resistance (AMR).
Study finds cheap, non-woven masks are most effective
If you're looking for the most effective mask to protect you from the coronavirus, Japanese researchers say you don't need to look very far. Their findings show cheap and plentiful non-woven masks do the best job of screening out droplets.
Non-woven masks are those disposable medical masks that many people in Asia wear during flu season. They were in short supply at the beginning of the pandemic, but supplies are now plentiful.
Woven masks are generally heavier, which gives the impression that they are more effective. They are typically made from fabrics such as cotton.
College president takes business owners to task
Whose fault is it when colleges and universities have to suspend in-person classes because of coronavirus outbreaks? The president of the University of Iowa is pointing a finger at local businesses, especially bar-owners.
"Over the past two weeks, I have been exceedingly disappointed in some of the downtown Iowa City businesses and your choices to disregard the proclamation from the governor," Bruce Harreld wrote in an open letter. "These actions have led to an increase in the transmission of COVID-19 in our community, and we, as a community, will now have to respond."
Dozens of schools in 20 states, including the University of North Carolina at Chapel Hill and Notre Dame, have suspended classes because of a spike in cases on campus.
Don't overdo the disinfecting, researchers warn
Since the pandemic hit, you would be hard-pressed to find disinfecting cleaning wipes and other germ-killing cleaning products on store shelves. Consumers have snapped them up whenever they appear.
But Indiana University researchers say too much disinfecting may actually be harmful in the long run. They examined dust samples taken from vacuum containers and bags from residential homes across Indiana in June 2020 and compared them with previously collected samples in 2018 and 2019, before the COVID-19 outbreak. 
They discovered a significantly higher concentration of quaternary ammonium compounds (QACs) -- a major class of chemicals widely used as disinfectants in household cleaning products -- in the samples collected after the COVID-19 outbreak. Researchers say the two chemicals can cause health issues on their own.
Around the nation
Maine: A large indoor wedding reception has been linked to a coronavirus outbreak at the York County Jail. Health officials say a jail employee who attended the reception got the virus and spread it among 60 other employees and inmates.

Virginia: Virginia is seeing a slowing trend but is still dealing with an elevated number of cases, reporting more than 1,000 new infections since Monday. At the same time, health officials say the seven-day average of cases has declined in recent days.

North Carolina: Another college has given up on in-person instruction. East Carolina University in Raleigh is moving to online classes as a precaution following two days off for students.