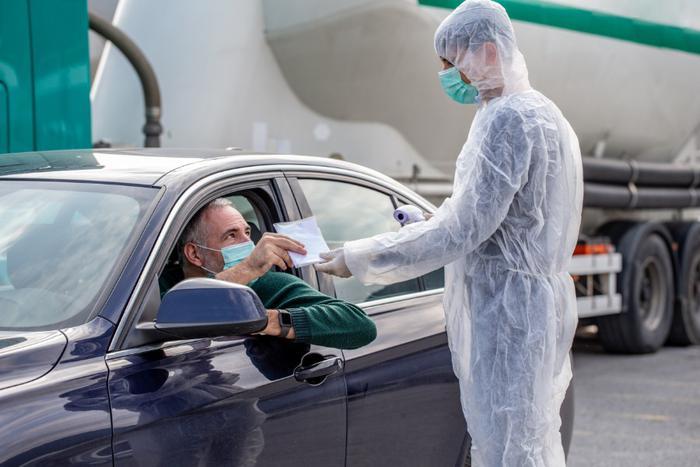 Coronavirus (COVID-19) tally as compiled by Johns Hopkins University. (Previous numbers in parentheses.)
Total U.S. confirmed cases: 4,773,775 (4,727,879)
Total U.S. deaths: 156,906 (155,814)
Total global cases: 18,579,615 (18,340,451)
Total global deaths: 701,544 (695,318)
New York will set up entry checkpoints
If you're coming to New York City from out of state be prepared to fill out some paperwork. Mayor Bill de Blasio says the city will set up entry checkpoints to enforce quarantine orders for residents of certain states where coronavirus (COVID-19) cases are widespread.
"Travelers from certain states will be required to fill out forms to support contact tracing efforts," the mayor's office said in a statement.
Checkpoints will be at bridge and tunnel crossings and at Penn Station. They will be put in place on Thursday.
Moderna, J&J price their vaccines
Getting a coronavirus vaccination using the vaccine produced by Moderna will cost some customers from $32 to $37. The company said it's an example of "pandemic pricing."
Moderna is one of several drug companies working on a vaccine. Moderna CEO Stephane Bancel said his company is working with governments around the world to make the vaccine accessible and affordable.
Johnson & Johnson is also working on a vaccine. The company says it will sell 100 million doses to the U.S. government for a little more than $1 billion.
States push for cheaper remdesivir prices
Thirty-four state attorneys general have petitioned federal health agencies to take action to make the coronavirus treatment drug remdesivir cheaper and more widely available.
Gilead Sciences developed remdesivir several years ago as a potential treatment for ebola. It didn't work for that but in clinical use during the current pandemic, it was been shown to reduce deaths and speed up recovery times.
In a letter to the National Institutes of Health (NIH) and the Food and Drug Administration (FDA), the state officials urge the federal health agencies to use their legal authority under the Bayh-Dole Act to increase the availability of remdesivir, noting that the U.S. government provided financial support for the drug's development.
Families have changed vacation plans
New research from Vrbo shows families have changed their vacation habits, with summer vacations extending into the fall. The short-term rental platform says families are booking vacation rental trips later in August, September, and October, are considering staying longer to mix work and play, and are often getting better value in high-demand locales.
There is little doubt the change is due to the pandemic. Fifty percent of those surveyed said that flexible school schedules provide more flexibility in vacationing, while 48 percent said they can now work from anywhere.
"This summer, we've seen countless families switch to road trips and rent private vacation homes instead of taking traditional vacations," said Vrbo president Jeff Hurst. "What's interesting is the shift in when people are traveling and how families are blending vacation time with working from home or remote learning,"  "Families can use this flexibility as an opportunity to travel outside of peak seasons and try new experiences, like seeing the mountain leaves change, catching the first snow of the season, or visiting the beach when it isn't as hot."
Dr. Fauci is still the one
From the beginning of the federal response to the pandemic, Dr. Anthony Fauci, head of the National Institute for Allergy and Infectious Disease (NIAID) emerged as a trusted spokesman. A new survey shows his reputation hasn't diminished over the last four months.
The University of Southern California Center for the Digital Future found 44 percent of Americans rely on Fauci more than any other individual for information about the pandemic. After Fauci, 19 percent of people rely on New York Gov. Andrew Cuomo.
Meanwhile, a June study found 43 percent of Americans said the federal response to the COVID-19 pandemic was poor, an increase from 39 percent in April.
Around the nation
Florida: State and local officials say cases of the coronavirus, which spiked early last month, appear to be on the decline in August. Miami-Dade County, Mayor Carlos Gimenez says hospitalizations in the area have trended lower over the last two weeks.

Michigan: Gov. Gretchen Whitmer has signed an executive order to step up enforcement of previous pandemic-related executive orders. They include limitations on capacity and the requirement to wear a mask when entering a Michigan business.

Arizona: A superior court judge in Maricopa County has ruled that commercial gyms in the country should have the right to reopen their facilities. Mountainside Fitness filed for temporary restraining orders and preliminary injunctions to remain open despite COVID-19 health measures from the State of Arizona.