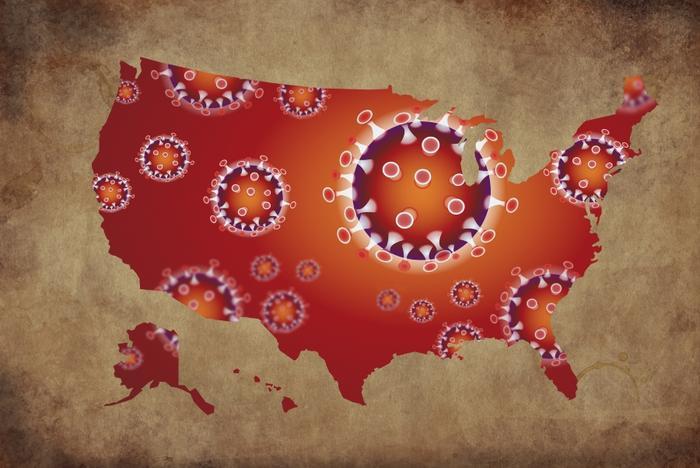 Coronavirus (COVID-19) tally as compiled by Johns Hopkins University. (Previous numbers in parentheses.)
Total U.S. confirmed cases: 871,285 (843,981)
Total U.S. deaths: 50,066 (46,859)
Total global cases: 2,744,511 (2,659,557)
Total global deaths: 192,982 (185,494)
FDA issues warning about hydroxychloroquine side effects
The Food and Drug Administration (FDA) is warning consumers and their health care providers about known side effects of hydroxychloroquine and chloroquine when used "off-label" to treat the coronavirus (COVID-19).
The agency says the side effects include serious and potentially life-threatening heart rhythm problems that have been reported when the drugs are part of a COVID-19 treatment. However, the FDA says the risks may be mitigated when closely supervised in a clinical setting.
"We understand that health care professionals are looking for every possible treatment option for their patients and we want to ensure we're providing them with the appropriate information needed for them to make the best medical decisions," said FDA Commissioner Dr. Stephen Hahn. "While clinical trials are ongoing to determine the safety and effectiveness of these drugs for COVID-19, there are known side effects of these medications that should be considered."
Hahn said doctors considering hydroxychloroquine as a treatment for coronavirus patients should "closely screen and monitor" those patients.
Mandatory masks
United Airlines says it will require flight attendants on all flights to wear face masks, the first U.S. carrier to take that step. The directive went into effect today.
"In coordination with the Association of Flight Attendants (AFA)—starting on April 24—we will require that all flight attendants wear a face covering or mask to help protect themselves and customers on board our aircraft," United said in a statement.
The union, meanwhile, says the airline should also require all passengers to wear masks while on board the aircraft. 
Potential shortcut to a vaccine
Developing a vaccine to protect against diseases normally takes years, but there's an idea gaining acceptance that could speed things up. But it's controversial.
To test the vaccine, researchers would recruit several hundred healthy, young volunteers and infect them with the coronavirus. Half would be inoculated with the vaccine, the other half would not.
Advocates of that approach say the volunteers would be fully informed of the risks. They say it could shave months off the trial, helping determine in a more timely manner whether the vaccine works.
Trump's comments on bleach raise concern
President Trump is getting some serious pushback from his musings at his daily press briefing that ultraviolet light or injecting disinfectants into the body might help kill the coronavirus. Health experts quickly pointed out that bleach is a toxic substance and does not belong inside the human body.
"Inhaling chlorine bleach would be absolutely the worst thing for the lungs," John Balmes, a pulmonologist at Zuckerberg San Francisco General Hospital, told TIME. "The airway and lungs are not made to be exposed to even an aerosol of disinfectant."
Trump's comments came in response to a presentation by the Department of Homeland Security that found bleach killed the virus in saliva. Disinfectant manufacturers were among the first to express alarm.
"As a global leader in health and hygiene products, we must be clear that under no circumstances should our disinfectant products be administered into the human body (through injection, ingestion or any other route,)" the company that makes Lysol said in a statement.
New doubts about a potential drug treatment
While there are high hopes for the potential coronavirus (COVID-19) treatment drug remdesivir, a clinical trial in China cast doubt on its effectiveness, with researchers calling it a "flop."
Researchers say it made no difference in mortality, with actually slightly more of the patients taking the drug dying than the patients taking a placebo. But Gilead Science, the company making the drug, cautions against a rush to judgment.
The company notes that the trial was not completed because it could not enroll enough participants. A spokesperson for the drugmaker said the results from the Chinese trial cannot "enable statistically meaningful conclusions."
Around the nation
Wyoming: The state health department reports that it has received a new shipment of testing supplies and no longer has a shortage. It says that the new supplies will enable hospitals to expand testing beyond priority groups.

Washington: The state supreme court has blocked a move that would have released inmates from state correctional institutions to mitigate coronavirus risks. The justices heard oral arguments in separate locations, using Zoom.

Ohio: Attorney General Dave Yost says price gouging is widespread in Ohio. His office has received more than 900 complaints since the beginning of the coronavirus outbreak. His office recently settled with an individual allegedly selling N95 masks at 18 times their list price.