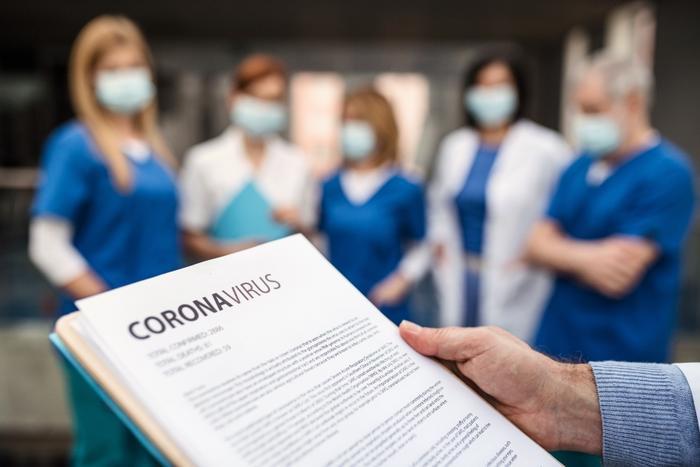 Coronavirus (COVID-19) tally as compiled by Johns Hopkins University. (Previous numbers in parentheses.)
Total U.S. confirmed cases: 1,555,537 (1,532,212)
Total U.S. deaths: 93,606 (92,128)
Total global cases: 5,034,458 (4,931,057)
Total global deaths: 329,186 (324,240)
TSA issues new rules for summer travel
The Transportation Security Administration (TSA) has issued a package of guidelines for summer travel, and the regulations make big changes to adapt to the coronavirus (COVID-19). In one of the biggest changes, passengers will retain control of their boarding passes at all times with no TSA agent touching them.
Passengers are also encouraged to wear face masks, especially since some airlines now require them for all passengers. TSA says passengers may be asked to adjust their masks during the screening process.
"In the interest of TSA frontline workers and traveler health, TSA is committed to making prudent changes to our screening processes to limit physical contact and increase physical distance as much as possible," said TSA Administrator David Pekoske. "We continue to evaluate our security measures with an eye towards making smart, timely decisions benefiting health and safety, as well as the traveler experience."
New unemployment claims still slowing
The Labor Department reported today that initial claims for unemployment benefits increased in the previous week by 2.43 million -- still an extremely large number but a slowdown from previous weeks.
In fact, it's a decrease of 249,000 from the previous week's revised level. The previous week's level was revised down by 294,000 from 2,981,000 to 2,687,000. 
The four-week moving average was 3,042,000, a decrease of 501,000 from the previous week's revised average. The previous week's average was revised down by 73,500 from 3,616,500 to 3,543,000.  
April home sales plunge
Sales of existing home sales sank 17.8 percent in April as the coronavirus lockdown kept buyers on the sidelines. The National Association of Realtors (NAR) reports that all of the four major regions of the country experienced a decline in month-over-month and year-over-year sales, with the West seeing the greatest dip in both categories.
"The economic lockdowns – occurring from mid-March through April in most states – have temporarily disrupted home sales," said Lawrence Yun, NAR's chief economist. "But the listings that are on the market are still attracting buyers and boosting home prices."
New testing centers in Arizona
CVS Health has announced plans to expand its COVID-19 testing program in Arizona by opening 16 additional test sites at select CVS Pharmacy drive-thru locations across the state.
The new centers will open tomorrow and increase the number of CVS testing locations in Arizona to 25.
The testing locations will use self-swab tests and will mark the next phase of the CVS's nationwide COVID-19 testing strategy announced last month. The pharmacy retailer expects to have nearly 1,000 locations across the country offering this service by the end of May.
"As we move into a new phase of combatting the pandemic and as communities begin to safely open up their local economies, we need testing to be easily accessible," said Dr. Troyen Brennan, chief medical officer and executive vice president at CVS Health. "By further expanding the number of drive-thru test sites available across our retail network, more people can be tested closer to home in a familiar setting."
COVID-19 may delay Amazon's Prime Day
Amazon's highly successful Prime Day shopping spree, typically staged in mid-July, is reportedly being pushed back to September. The Wall Street Journal reports that the online retailer is still trying to keep up with the avalanche of orders from home-bound consumers seeking basic supplies. 
The reported postponement would allow Amazon to be able to more quickly fill orders for a wider variety of products. Currently, non-essential items can take a week or more to receive.
Amazon has declined to comment on the report.
Around the nation
Indiana: To accommodate consumers during the Memorial Day weekend, state officials are lifting COVID-19 restrictions tomorrow, two days early. Gov. Eric Holcomb said a new state order will allow social gatherings of up to 100 people and retail stores and malls to operate at 75 percent capacity.

Oklahoma: The Oklahoma Secondary School Activities Association (OSSAA) reportedly plans to restart high school activities in three phases. The Oklahoman reports the OSSAA board will meet tomorrow to discuss the plan before sending it to school administrators and coaches.

Tennessee: The Tennessee Economic Recovery Group has updated its guidelines for restaurants and retail stores to reduce capacity restrictions. It also issued new guidance to help attractions and large venues to reopen while remaining safe. Gov. Bill Lee's office says the new guidelines will go into effect tomorrow.