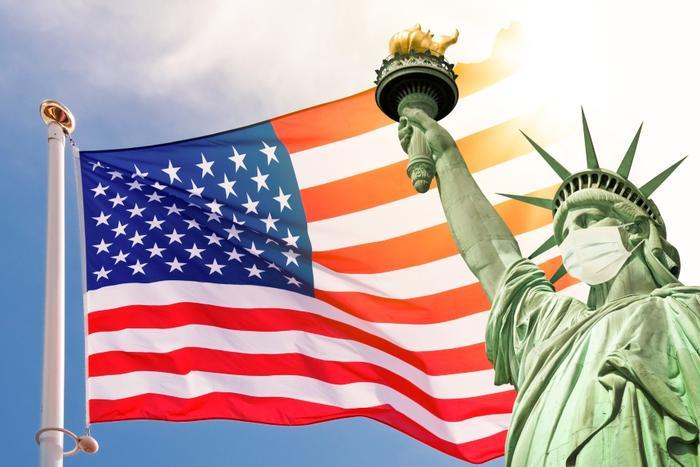 Coronavirus (COVID-19) tally as compiled by Johns Hopkins University. (Previous numbers in parentheses.)
Total U.S. confirmed cases: 2,688,246 (2,638,338)
Total U.S. deaths: 128,104 (127,485)
Total global cases: 10,729,336 (10,512,383)
Total global deaths: 517,052 (512,114)
U.S. sets record for new cases in a single day
The United States set a record Wednesday, and not the good kind. The country recorded more than 50,000 new cases of the coronavirus (COVID-19) in a single day, the most so far during the pandemic.
According to the semi-official tally maintained by Johns Hopkins University, the U.S. recorded at least 50,700 new cases, bringing the total number of confirmed U.S. cases to more than 2.68 million. No other country has as many official cases as the U.S.
But Dr. Scott Gottlieb, former director of the Food and Drug Administration (FDA), is one of many health experts who believe the total is far higher. Gottlieb has said it's likely the U.S. has tens of thousands of new cases a day that go undiagnosed and untested.
Apple and McDonald's rethink reopening plans
McDonald's has hit the pause button on plans to reopen its dining rooms because of June's unexpected and severe spike in coronavirus cases. Some locations now offer limited dine-in service, but McDonald's said today it won't add any more locations for at least three weeks.
Meanwhile, Apple has announced that it is reclosing 30 more of its stores because of concerns about the virus. That's in addition to the 50 that were reclosed earlier.
For customers who have already placed orders at the stores scheduled for closing, Apple is allowing in-store pickup through Friday.
Employment continued to pick up in June
The Labor Department reports that the nation's economy added 4.8 million jobs in June as businesses around the country continued to reopen. But some analysts are wondering if it can last in the face of renewed outbreaks.
Hiring in the hospitality and leisure sector led the way, adding 2.1 million jobs and accounting for about two-fifths of the gain in total nonfarm employment. But it's precisely these businesses that may be at risk of another shutdown.
Strong employment among restaurants and bars could stall in the weeks ahead if more states order bars to close and renew restrictions on dine-in restaurants.
Trump administration against national mask mandate
President Trump says he's all for masks but isn't sure there should be a nationwide requirement to wear one. Vice President Mike Pence strengthened that stand today, telling CNBC that the White House doesn't need to take that action.
"There are some areas of the country, large areas of the country, where we have very low number of cases at all," Pence said in an interview. "It's not a one-size-all approach whether it be on testing or on supplies and on mitigation efforts. What we want to do is empower governors and local officials to give the guidance to the people in those communities that are most appropriate to those circumstances."
Some economists, however, say a national mask mandate makes economic sense. A national face mask mandate could reduce the prevalence of COVID-19 infections and potentially prevent lockdowns that would subtract as much as 5 percent from the economy, according to economists at Goldman Sachs. 
Happy Independence Day. Just be careful
With the three-day July 4th holiday, many health experts are fearful that a lax approach to social distancing could make the current spike in coronavirus cases that much worse. 
"I am very concerned, especially given this coming weekend, that the same types of spikes, the same types of surges could be seen not just in the places that are currently experiencing surges, but in places that have already experienced surges, and in ones that haven't yet,"  Joshua Barocas, assistant professor of medicine at the Boston University School of Medicine, told The Hill.  
Some health policymakers have linked the current spike in cases to the Memorial Day weekend holiday at the end of May.
Around the nation
Tennessee: Gov. Bill Lee has identified four counties in Tennessee as areas of concern as the state recorded 1,800 new coronavirus cases Wednesday. Rutherford, Macon, Sevier, and Bradley counties have gone on the watch list.

Nevada: Weeks after Las Vegas reopened casinos on The Strip, cases of COVID-19 have jumped in Nevada. State health officials report that the number of cases has tripled since late May.

Connecticut: State health officials are expressing relief at the latest coronavirus statistics. The rate of positive tests dropped to 0.5 percent Wednesday, with 58 new cases reported out of 11,448 tests. That makes Connecticut the state with the third-lowest rate of infection.