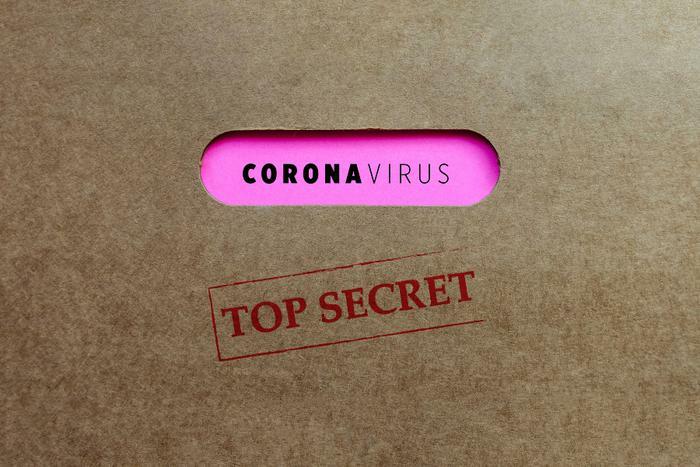 Coronavirus (COVID-19) tally as compiled by Johns Hopkins University. (Previous numbers in parentheses.)
Total U.S. confirmed cases: 33,379,300 (33,365,965)
Total U.S. deaths: 598,006 (597,700)
Total global cases: 173,709,075 (173,386,978) 
Total global deaths: 3,739,415 (3,730,939)
Report: Laboratory origin of COVID-19 a 'plausible theory'
The Wall Street Journal reports that a classified government report produced early in the pandemic concluded that it is "plausible" that the virus escaped from a lab in Wuhan, China.
At the time, Chinese authorities said -- and the World Health Organization (WHO) agreed -- that the virus most likely originated in a live animal market in the Chinese city. The Journal quotes officials who have seen the report as saying it makes a case for studying the idea.
The government document, produced by the Lawrence Livermore Laboratory in May 2020, is reportedly getting a new look because President Biden has asked intelligence agencies to look into the origin of the virus.
Experts worry that the South could see a summer surge in cases
Cases of the coronavirus continue to fall nationwide. Only a handful of states have seen an increase in positive test results over the last two weeks.
But health experts interviewed by the New York Times worry that southern states could see a summer surge in new cases because vaccinations in that region have lagged behind the national effort. Many of these states have already lifted restrictions.
Dr. Peter Hotez, a specialist in vaccines at Baylor College of Medicine, told the Times that he expects a new wave of infections in the South because "we're so underachieving in terms of vaccination."
Biden administration reviews supply chain issues
With everything from chicken wings to computer chips in short supply because of supply chain bottlenecks that occurred during the pandemic, the White House is trying to get things moving again.
Officials announced the results of a review of four areas where the supply chain has bogged down earlier today -- semiconductors, large capacity batteries, minerals, and pharmaceutical products. 
The review calls for a number of steps, including use of the Defense Production Act. That Korean War-era law allows the government to direct certain industries to produce more products to alleviate shortages.
Survey shows parent anxious about finances in wake of pandemic
Despite government stimulus checks and increased unemployment benefits, the pandemic has taken a toll on many families' finances. A new survey from Policygenius shows that 26% of parents think the pandemic has made them less financially able to care for their families.
In addition to layoffs when businesses shut down, many parents voluntarily left the workforce to care for children who were home because schools were closed. Twenty-three percent of families said at least one of the parents quit or scaled back a job over the last 15 months.
"The COVID-19 pandemic has been especially difficult for parents, who have had to navigate so many emotional and logistical challenges while also facing new financial challenges and uncertainty," said Hanna Horvath, a data analyst and personal finance expert at Policygenius.
Increasingly, Americans see the pandemic as just about over
In a very short period of time, a large number of Americans have shed most of their concerns about the pandemic and have returned to their pre-pandemic lifestyle. A poll by Axios/Ipsos found that 69% of Americans see little risk in returning to their pre-pandemic life. In March, only 39% of people expressed that opinion.
Restaurants are busier as a result. In early March, only 39% of consumers had gone out to eat in the past week. By early June, 61% had decided to dine out.
After months of isolation, people are getting together again. In March, 44% of Americans had recently visited family or friends. By this month, that percentage had risen to 66%.
Around the nation
Massachusetts: State health officials report that more than 3.8 million people are fully vaccinated. They say the state has administered 8.1 million doses of vaccine -- 4.2 million first doses and 3.6 million second doses.

Florida: While new cases of the virus continue to fall nationwide, the state is seeing a new surge. State health officials report that new cases increased by nearly 15% last week. Nationwide, cases were down 28%.

Virginia: Rep. Abigail Spanberger (D-Va.) toured a Central Virginia distillery and other small businesses on Monday to hear how they coped with the pandemic. She said rebuilding efforts have a long way to go for many people. "It's really put into stark relief how trying things are for many families," she stated.