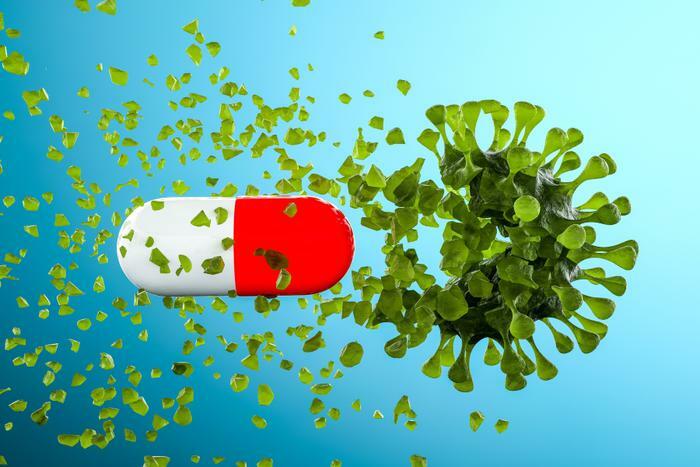 Coronavirus‌ ‌(COVID-19)‌ ‌tally‌ ‌as‌ ‌‌compiled‌‌ ‌by‌ ‌Johns‌ ‌Hopkins‌ ‌University.‌ ‌(Previous‌ ‌numbers‌ ‌in‌ ‌parentheses.)‌
Total‌ ‌U.S.‌ ‌confirmed‌ ‌cases:‌ 44,350,886 (44,318,179)‌
Total‌ ‌U.S.‌ ‌deaths:‌ 713,453 (712,975)
Total‌ ‌global‌ ‌cases:‌ 238,065,643 (237,673,012)
Total‌ ‌global‌ ‌deaths:‌ 4,854,953 (4,849,471)‌
Merck seeks approval for COVID-19 pill
A pill that treats the symptoms of COVID-19 may be one step closer to becoming available. Merck and its partner Ridgeback have asked the U.S. Food and Drug Administration (FDA) for emergency use authorization (EUA) for molnupiravir, a pill that may be able to treat mild-to-moderate coronavirus symptoms.
The request is based on positive results from a planned interim analysis from the Phase 3 MOVe-OUT clinical trial, which evaluated molnupiravir in non-hospitalized adult patients with mild-to-moderate COVID-19 who were at risk for progressing to severe COVID-19 and/or hospitalization. 
Interim data showed that the drug reduced the risk of hospitalization or death by approximately 50%. It showed that only 7.3% of patients who received molnupiravir were either hospitalized or died through Day 29 following randomization, compared with 14.1% of placebo-treated patients.
AstraZeneca reports positive results for drug treatment
There's more good news for health officials working to contain the pandemic. Vaccinations may have stalled, but another pharmaceutical company is reporting positive results of a drug to treat people after they get COVID-19.
AstraZeneca says its experimental drug called AZD7442 reduced the risk of developing severe COVID-19 or death by 67% in a clinical trial. Hugh Montgomery, Professor of Intensive Care Medicine at University College London and the study's principal investigator, said the drug appears to be another weapon against the pandemic. 
"With continued cases of serious COVID-19 infections across the globe, there is a significant need for new therapies like AZD7442 that can be used to protect vulnerable populations from getting COVID-19 and can also help prevent progression to severe disease," he said.
Hundreds of thousands of servicemembers not vaccinated
Despite a Biden administration order that all U.S. service members be vaccinated against the coronavirus, hundreds of thousands reportedly have not yet complied with the order. The Washington Post reports that 90% of U.S. Navy personnel have been vaccinated, but only 72% of U.S. Marines have.
Defense Department employees, which include both civilian and military personnel, have until Oct. 28 to be vaccinated or face punishment. Meanwhile, the military is suffering more than its share of severe COVID-19 infections and deaths.
Defense Department Spokesman Maj. Charlie Dietz said more military personnel died of coronavirus infections during the month of September than in all of 2020. According to Deitz, none of the deaths occurred among personnel who were fully vaccinated.
Around the nation