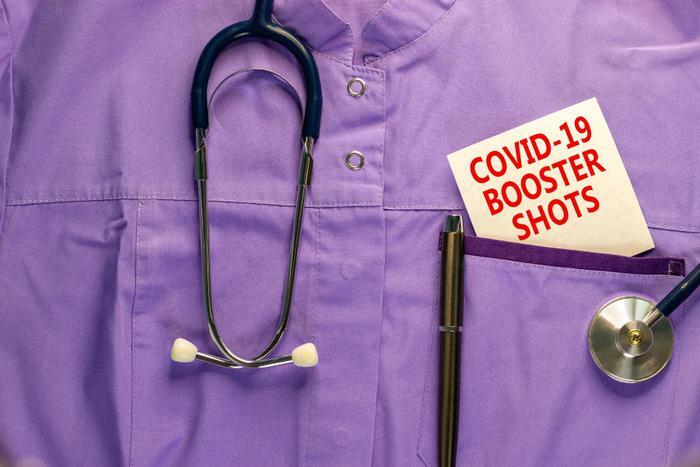 Coronavirus‌ ‌(COVID-19)‌ ‌tally‌ ‌as‌ ‌‌compiled‌‌ ‌by‌ ‌Johns‌ ‌Hopkins‌ ‌University.‌ ‌(Previous‌ ‌numbers‌ ‌in‌ ‌parentheses.)‌
Total‌ ‌U.S.‌ ‌confirmed‌ ‌cases:‌ 43,990,314 (43,867,314)‌
Total‌ ‌U.S.‌ ‌deaths:‌ 706,522 (703,742)
Total‌ ‌global‌ ‌cases:‌ 236,044,100 (235,598,854)
Total‌ ‌global‌ ‌deaths:‌ 4,820,945 (4,812,498)‌
Johnson & Johnson seeks booster shot approval
Johnson & Johnson says it has applied to the U.S. Food and Drug Administration (FDA) for emergency use authorization (EUA) for booster shots of its COVID-19 vaccine. The boosters would be given to consumers aged 18 and older who had previously received the company's vaccine.
The drug company submitted data from clinical trials showing that when a booster was given six months after the single shot, antibody levels increased nine-fold one week after the booster and continued to climb to 12-fold higher four weeks after the booster. The company said the vaccine was generally well-tolerated when given as a booster or primary dose.
"Our clinical program has found that a booster of our COVID-19 vaccine increases levels of protection for those who have received our single-shot vaccine to 94 percent," said Dr. Mathai Mammen, a top executive at J&J subsidiary Janssen Research & Development.
At-home test kits recalled
Ellume, an Australian company that produces at-home COVID-19 test kits, is recalling thousands of the kits because some have been shown to render false positives. The company said the recall involves 43 lots of the product.
Ellume CEO Dr. Sean Parsons said an internal investigation isolated the cause of the defect and confirmed that this incidence of false positives is limited to specific lots.
"In response, we worked with the FDA to voluntarily remove affected Ellume tests from the market," Parsons said. "Importantly, the reliability of negative results is unaffected by this issue." 
Scientists trace COVID-19 link to diabetes
It's well established that diabetes is one of the underlying health conditions that make COVID-19 symptoms more serious. But researchers now think that one of the lingering effects of having COVID-19 is a higher risk of developing diabetes.
Scientists are trying to determine whether the coronavirus somehow attacks important cells in the pancreas that produce insulin. At the moment, the researchers say the relationship isn't well understood. However, they say the idea warrants investigation.
"Clearly there's a link, there's some sort of mechanism that makes the diseases fuel one another," Francesco Rubino, chair of metabolic surgery at King's College London, told Yahoo News. "The question is whether new-onset diabetes could be caused by this virus."
Around the nation