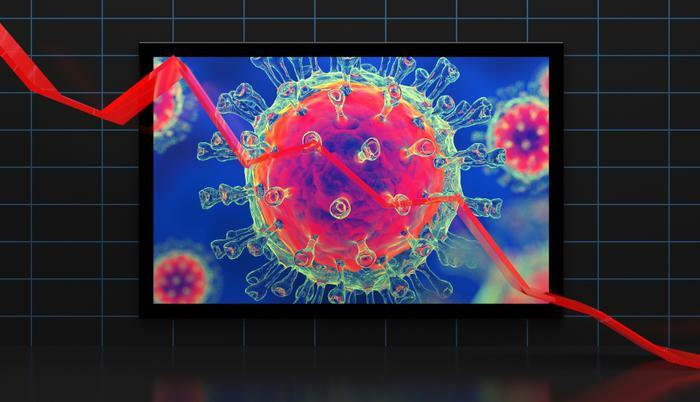 Coronavirus (COVID-19) tally as compiled by Johns Hopkins University. (Previous numbers in parentheses.)
Total U.S. confirmed cases: 29,001,272 (28,985,707)
Total U.S. deaths: 525,136 (524,935)
Total global cases: 116,966,556 (116,712,556)
Total global deaths: 2,595,573 (2,591,264)
Hospitalizations fall 70 percent since January
Vaccinations are on the rise and hospitalizations from the coronavirus (COVID-19) are at their lowest point since mid-October, according to the COVID-19 Tracking Project at Johns Hopkins University. The number of people being treated in hospitals for COVID-19 total just over 40,000 -- down 70 percent from January's peak.
Meanwhile, the vaccine rollout has picked up speed with the addition of Johnson & Johnson's single-dose vaccine, which has been distributed in nearly every state. More than 17 percent of the adult population has been vaccinated at this point, and some states are expanding eligibility this week.
Some large employers are seeking approval from state health departments to begin offering a vaccine to their employees in the workplace.
Consumers return to the airlines
As more Americans get vaccinated, many of them are getting on airplanes. A recent report shows that airline passenger traffic counts are soaring.
The Transportation Security Administration reports that 1.23 million people passed through security checkpoints at U.S. airports on Sunday. That's the most since the New Year's Day holiday weekend.
That's still well below pre-pandemic levels, but the numbers have the airlines scrambling. They're rehiring and retraining pilots and other personnel who were furloughed when the pandemic brought air travel to a near standstill.
Baxter will make Moderna's vaccine
Another pharmaceutical company has agreed to help make a competitor's coronavirus vaccine. Baxter BioPharma Solutions has announced that it will produce and package the Moderna vaccine with at least 60 million doses this year, significantly increasing supplies.
"We have seen a remarkable demonstration of scientific and health care expertise in the effort to develop vaccines for COVID-19," said Marie Keeley, vice president, Baxter BioPharma Solutions.
Shortly after Johnson & Johnson's vaccine hit the market, Merck announced that it had agreed to produce millions of doses of the vaccine.
Senate passes $1.9 trillion stimulus bill
Most Americans will get $1,400 payments from the government under a bill passed by the Senate over the weekend, which is now headed to the House for final passage. The House passed an earlier version of the bill but must now vote on changes made in the Senate.
Under the final bill, Americans would still receive a payment of $1,400, but the payments would be phased out at lower income levels. Single people earning less than $75,000 a year will get the full $1,400 payment, as well as married couples earning less than $150,000.
President Biden is expected to sign the final bill later this week. If past stimulus payments are any indication, Americans can expect to start receiving money before the end of the month.
Expert: Don't let down your guard
With a number of states relaxing virus mitigation protocols that have been in place for months, one expert worries that the U.S. could be on the brink of a new surge in cases just as vaccinations begin to make their way to the public.
Epidemiologist Michael Osterholm, director of the Center for Infectious Disease Research and Policy at the University of Minnesota, reports that the sharp drop in COVID-19 cases has leveled off in recent days at numbers that are still dangerously high. He's also worried about the more contagious variants that are now circulating in the U.S.
"Four weeks ago, the B.1.1.7 variant made up about 1 to 4 percent of the virus that we were seeing in communities across the country. Today it's up to 30 to 40 percent," he told NBC's "Meet the Press."
Around the nation
New Jersey: Gov. Phil Murphy is defending his administration's decision to order long-term care facilities to accept residents who tested positive for COVID-19. He also said many facilities defied the state's order to keep those residents in a quarantined section of the facility.

Iowa: The number of COVID-19 patients in hospitals around the state fell to a multi-month low over the weekend. The 167 people being treated in hospitals for the virus was the lowest since July 8.

Nevada: Gov. Steve Sisolak has signed a new emergency directive that changes the minimum distance between performers and audience members to 6 feet if performers are wearing masks and 12 feet when performers are not wearing a mask.