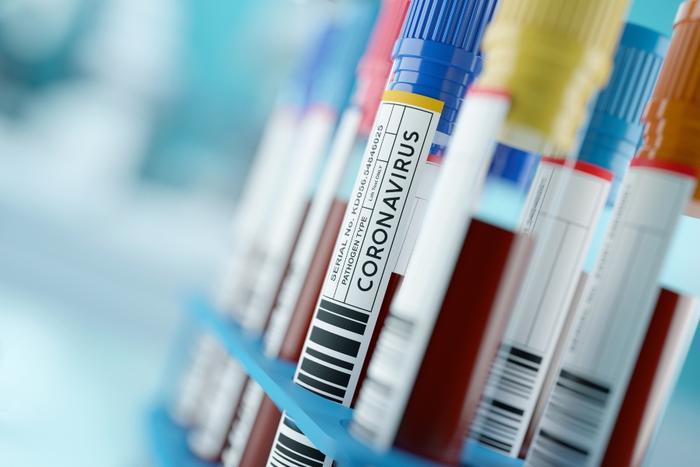 Coronavirus (COVID-19) tally as compiled by Johns Hopkins University. (Previous numbers in parentheses.)
Total U.S. confirmed cases: 144,672 (135,499)
Total U.S. deaths: 2,575 (2,381)
Total global cases: 745,308 (710,918)
Total global deaths: 35,307 (33,551)
Navy hospital ship arrives in New York
As New York City struggles to cope with the rising number of serious coronavirus cases, the city's overburdened hospitals are getting some much-needed relief. The U.S. Navy hospital ship USNS Comfort docked in New York Harbor today.
The ship, with 1,000 hospital beds and a dozen operating rooms, will be used to treat New Yorkers with health conditions other than the coronavirus. New York Gov. Andrew Cuomo called it a "relief valve" for the city's hospitals, which are straining to treat the growing number of COVID-19 patients.
Hopeful announcement about a vaccine
Johnson & Johnson has been working on a coronavirus vaccine since January, and today it announced that it has a "lead candidate" that it expects to enter into clinical trials by September. It further anticipates the first batches of the vaccine could be available for emergency use authorization in early 2021.
Since time is of the essence, J&J said it is expanding its manufacturing capacity both in the U.S. and abroad. It says that step will assist in the rapid production of a vaccine and would give health officials more than one billion doses of the vaccine, should trials show it to be safe and effective.
Antibody treatments begin in Houston
Houston Methodist hospital has received FDA approval to become the first academic hospital in the nation to transfuse donated plasma from a recovered COVID-19 patient into a critically ill patient. 
Scientists think that the antibodies from the blood of patients who have recovered from the virus might help patients who are struggling to recover. The FDA fast-tracked approval of the treatment amid a soaring caseload.
The new treatment method is known as convalescent serum therapy, and it isn't exactly new. It dates back more than a century to when similar treatments were used during the Spanish flu pandemic of 1918, a diphtheria outbreak in the 1920s, and during other outbreaks of infectious diseases.
Test results in five minutes
The U.S. Food and Drug Administration (FDA) has issued Emergency Use Authorization (EUA) for a new coronavirus test that can render results in five to 15 minutes. The test, from Abbott Labs, could address one of the major drawbacks to the U.S. response -- a lack of timely testing.
Abbott Labs says the test can deliver positive results in as little as five minutes and negative results in 13 minutes. The test will run on the company's ID NOW platform, providing rapid results in a wide range of health care settings such as physicians' offices, urgent care clinics, and hospital emergency departments.
"The COVID-19 pandemic will be fought on multiple fronts, and a portable molecular test that offers results in minutes adds to the broad range of diagnostic solutions needed to combat this virus," said Robert B. Ford, Abbott's CEO. "With rapid testing on ID NOW, healthcare providers can perform molecular point-of-care testing outside the traditional four walls of a hospital in outbreak hotspots."
Abbott said it will begin shipping the new tests this week.
Macy's furloughs most employees
Macy's, which closed all of its stores earlier this month in response to the coronavirus, announced today that it is furloughing most employees because of a huge loss of business.
"While the digital business remains open, we have lost the majority of our sales due to the store closures," the company said in a statement. "We've already taken measures to maintain financial flexibility, including suspending the dividend, drawing down our line of credit, freezing both hiring and spending, stopping capital spend, reducing receipts, canceling some orders and extending payment terms, and we are evaluating all other financing options."
More than one virus?
Why do some people seem to have light symptoms when they get the coronavirus but others get much sicker? A lot has to do with age and underlying health conditions.
But researchers at Stanford say there could be another complicating factor -- suffering from other viruses as well as COVID-19. Nearly 20 percent of people diagnosed with COVID-19 are also infected with other respiratory viruses, according to a preliminary analysis led by Ian Brown, MD, a clinical associate professor of emergency medicine at the Stanford School of Medicine.
The analysis also found that about 10 percent of patients with symptoms of respiratory illness at an emergency department, and who are subsequently diagnosed with a common respiratory virus, are co-infected with the COVID-19 virus.
Around the nation
Kansas: Gov. Laura Kelly today issued an order for all residents to stay at home as the number of confirmed COVID-19 cases in the state continues to rise. The order makes an exception for church services and gun sales. 

Ohio: The FDA has authorized Ohio-based Battelle Corp. to sterilize thousands of respirator masks for health care workers on the front lines of the coronavirus pandemic. The company previously received partial approval, but that limited how many masks they could clean in a 24-hour period. 

New Mexico: The Santa Fe New Mexican reports that immigration detainees in a facility near Grants are being crowded into close quarters with no social distancing. "We're all together," one detainee told the newspaper. "That's why we're afraid."