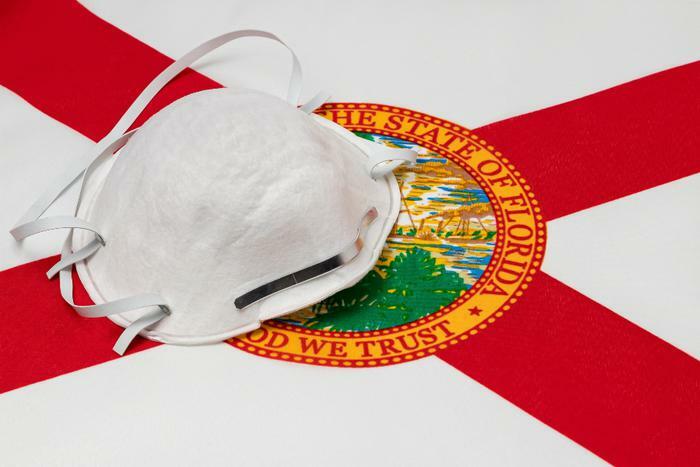 Coronavirus‌ ‌(COVID-19)‌ ‌tally‌ ‌as‌ ‌‌compiled‌‌ ‌by‌ ‌Johns‌ ‌Hopkins‌ ‌University.‌ ‌(Previous‌ ‌numbers‌ ‌in‌ ‌parentheses.)‌ 
Total‌ ‌U.S.‌ ‌confirmed‌ ‌cases:‌ 35,007,771 (34,981,891)‌
Total‌ ‌U.S.‌ ‌deaths:‌ 613,231 (613,164)
Total‌ ‌global‌ ‌cases:‌ 198,519,853 (198,060,664)
Total‌ ‌global‌ ‌deaths:‌ 4,228,484 (4,220,776)‌
Cases surge in Florida
Florida had a rough weekend. On Saturday, the state set a record for the number of daily new cases; on Sunday, it set a record for hospitalizations.
More than 10,000 COVID-19 patients started the week in Florida hospitals, eclipsing the previous record set in July 2020. The virus has been quickly spreading across the state for several weeks.
The Florida Department of Health reports that cases have risen 50% over the last seven days, with 110,477 infections from July 23 to July 29. As the number of U.S. cases surpassed 35 million, the White House said Florida now accounts for one out of every five new cases nationwide.
Deaths declined in July despite spread of Delta variant
Masks are back on in many areas as health officials grow increasingly concerned about the rapid spread of COVID-19 caused by the highly contagious Delta variant. But despite the large increase in cases of the virus, deaths declined in July.
A ConsumerAffairs analysis of data from Johns Hopkins University showed that 8,426 deaths were attributed to the virus during July, an average of 272 deaths per day. In June, the university's COVID-19 Tracking Project reported 9,907 deaths, averaging 330 fatalities per day.
New evidence suggests that fully vaccinated people are still vulnerable to infection. However, previous research has suggested vaccinated individuals are protected from serious illness in most cases.
Gallup poll shows optimism is fading
The increase in new coronavirus cases is causing businesses to ask customers to put masks back on, and it appears to be weighing on the American psyche. A new Gallup Poll shows that optimism about the end of the pandemic has plunged.
For the first time since January, more U.S. adults have been pessimistic than optimistic about the COVID-19 situation. It's nearly back to the levels seen during most of 2020, a time before vaccines were available. In November, 73% said the situation was deteriorating amid a dramatic surge in cases last fall.
While the current infection numbers may look discouraging, at least one health expert sees some hope. In an interview last week, Dr. Scott Gottlieb, former head of the U.S. Food and Drug Administration (FDA), predicted that the Delta variant would be significantly diminished in the U.S. in about three weeks.
Around the nation