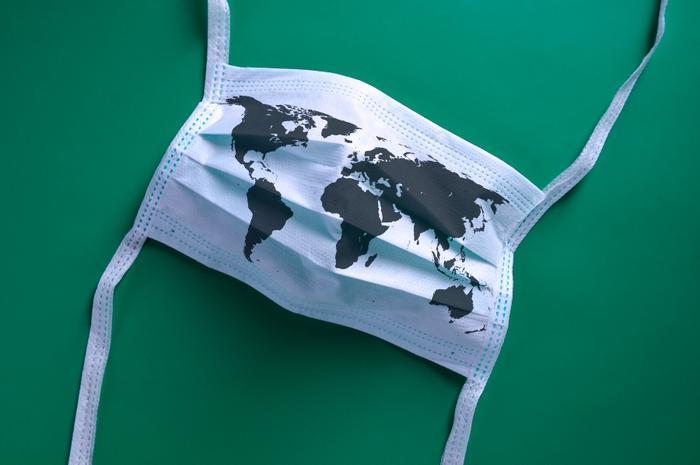 Coronavirus (COVID-19) tally as compiled by Johns Hopkins University. (Previous numbers in parentheses.)
Total U.S. confirmed cases: 226,374 (190,740)
Total U.S. deaths: 5,316 (4,127)
Total global cases: 981,221  (887,067)
Total global deaths: 50,230 (44,264)
Confiscated supplies distributed to those who need them
We all remember those early media reports about people buying up emergency products like hand sanitizer and masks and selling them for outrageous prices. When the government finds them, it's confiscating them.
The Department of Justice (DOJ) and Department of Health and Human Services (HHS) today said they are distributing supplies seized in the latest haul, including approximately 192,000 N95 respirator masks, and shipping them to first responders and health care personnel in New York and New Jersey.
The FBI recovered the supplies during an enforcement operation on Monday and alerted HHS, which used its authority under Defense Production Act (DPA) to order that the supplies be immediately furnished to the United States government.  
In addition to the masks, the supplies included 598,000 medical grade gloves and 130,000 surgical masks, procedure masks, N100 masks, surgical gowns, disinfectant towels, particulate filters, bottles of hand sanitizer, and bottles of spray disinfectant.
"If you are amassing critical medical equipment for the purpose of selling it at exorbitant prices, you can expect a knock at your door," said Attorney General William P. Barr. 
Long Island, N.Y., seeing a surge in coronavirus cases
New York remains a hot spot for coronavirus (COVID-19) cases, and now New York Gov. Andrew Cuomo says there is a "troubling" increase in cases on Long Island. 
"You look to see in Nassau County 1,000 new cases, Suffolk County 1,141 new cases. That is troubling news," Cuomo said at today's news briefing.
Cuomo says the virus has been confirmed in every county in the state, and the number of cases is now over 92,000.
Trump considers grounding flights to 'hot spot' cities
President Trump says he's considering an executive order grounding airline flights between cities that are considered "hot spots" for the coronavirus. At a White House briefing, Trump said he might soon consider that step rather than ordering a grounding of all flights.
"I am looking where flights are going into hot spots," Trump told reporters. "Some of those flights I didn't like from the beginning." 
Some airlines have already canceled flights to and from areas with high concentrations of the virus. Spirit Air recently stopped flying to New York and Newark.
Less dire unemployment forecast
Dallas Fed President Robert Kaplan predicts that the nation's unemployment rate will peak in the low- to mid-teens because of economic damage from the coronavirus. That's a significantly less dire forecast than the one issued Tuesday by the St. Louis Federal Reserve Bank, which said a third of the country could be out of work.
In an interview with CNBC, Kaplan said the jobless rate could fall to 8 percent by the end of the year; it was 3.5 percent in February. That said, Kaplan said he expects a "severe economic contraction" in the second quarter.
Dr. Fauci getting security detail
Dr. Anthony Fauci, the director of the National Institute of Allergy and Infectious Diseases (NIAD), who is a leading member of the White House's coronavirus task force, has reportedly received death threats and now has beefed-up security.
According to the Washington Post, the request for a security detail for the physician who has emerged as the face of the government's coronavirus response came from the Department of Health and Human Services.
Fauci regularly appears with President Trump, along with other task force members, at the White House's daily briefings on efforts to contain the virus. He has repeatedly warned that the virus in the U.S. will get worse before it gets better.
Around the nation
Massachusetts: State officials negotiated a deal with China for 1 million N95 masks, but China had no way to deliver them. Enter the New England Patriots, which offered its Boeing 767 team plane to go pick up the much-needed supplies.

Ohio: Health workers in Ohio will test an over-the-counter mouth spray to see if it can help prevent medical personnel who are treating coronavirus patients from contracting the disease. The spray won Food and Drug Administration (FDA) approval eight years ago.

Washington state: The initial epicenter of the coronavirus in the U.S. is seeing a noticeable slowing of new cases. Dow Constantine, Executive of King County, told MSNBC that officials are "not seeing the exponential growth that epidemiologists expect at this point" after taking aggressive action to curb virus transmission.