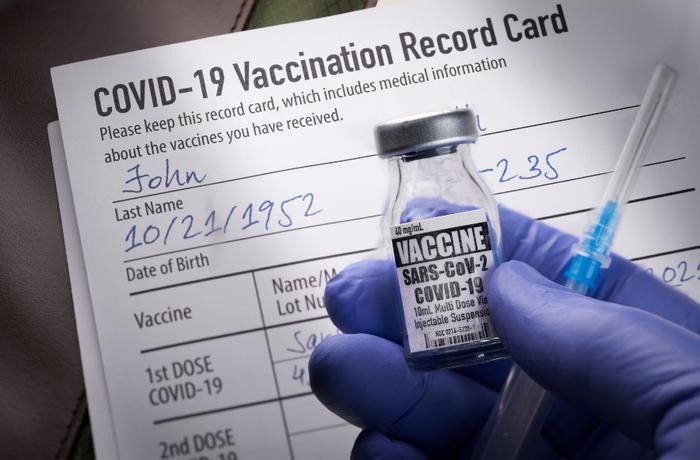 Coronavirus (COVID-19) tally as compiled by Johns Hopkins University. (Previous numbers in parentheses.)
Total U.S. confirmed cases: 17,011,532 (16,751,562)
Total U.S. deaths: 308,098 (304,589)
Total global cases:  74,467,555 (73,696,995)
Total global deaths: 1,654,461 (1,640,867)
FDA expected to approve Moderna vaccine
There are still steps that have to be followed, but health officials say there is little doubt that the U.S. Food and Drug Administration (FDA) will grant conditional approval of the coronavirus (COVID-19) vaccine developed by Moderna, likely by the end of the week.
The FDA's review committee is expected to flash the green light later today, and the emergency use authorization (EAU) could come on Friday. It would then join the vaccine from Pfizer and BioNTech, which is now being rolled out across the country.
The two vaccines are both messenger RNA (mRNA) type vaccines, and both showed better than 94 percent effectiveness in clinical trials.
More people head for the unemployment line
For the second straight week, more Americans applied for unemployment benefits. The Labor Department reported today that new claims for jobless benefits totaled 885,000 last week -- 23,000 more than applied the week before.
The numbers suggest that the economy has begun to lose momentum as cases of COVID-19 remain high across the nation, forcing many businesses to close again. In recent days, a number of restaurants announced that they are closing for good in the absence of aid.
Economists say the next few weeks could be especially grim. They say hiring is likely to remain weak until vaccines against the virus have been widely administered.
About that aid…
Congress has been talking -- actually debating -- about providing another shot of stimulus to the U.S. economy before the end of the year, but lawmakers haven't yet been able to pull it off. With time running out, both Republicans and Democrats think they're getting close.
"We're still close and we're going to get there," Senate Majority Leader Mitch McConnell, (R-Ky.) told reporters. Senate Minority Leader Chuck Schumer (D-N.Y.) agrees but says "it's not a done deal yet."
The contents of the relief package also remain in flux. NBC News reports that the current bill would provide direct payments to Americans in some amount, with about $300 billion for small businesses.
FDA approves another new test
The FDA has issued a new emergency use authorization (EUA) for the BinaxNOW COVID-19 Ag Card Home Test, which is authorized for use by patients at home with a prescription. On Tuesday, it also gave EUA to an over-the-counter (OTC) home test.
The BinaxNOW COVID-19 Ag Card Home Test is authorized for prescription use at home with self-collected nasal swab samples from individuals ages 15 years or older who are suspected of COVID-19 by their doctor. The test needs to be taken within seven days of symptoms.
"FDA continues to authorize COVID-19 tests that will give more Americans access to greater testing flexibility and options," said FDA Commissioner Dr. Stephen Hahn. "The BinaxNOW COVID-19 Ag Home Test will have a significant manufacturing footprint with the potential to support testing for millions of people."
Researcher: Quarantine weight gain may be a myth
Many Americans feel like they've put on weight since the pandemic began and are blaming the quarantine that is keeping them out of the gym and at home. But what's the reality?
A researcher at Florida State University studied college students and broke down their weight into five different categories. She found that most thought they had gained weight, even when they didn't.
"We found that one in 50 participants had a change in body mass that would change their weight category, about 2 percent of people," said Prof. Pamela Keel. "But 10 percent -- five times as many people -- described their weight as higher. Some people lost weight, a very few gained, but the vast majority stayed the same."
Around the nation
South Dakota: According to a Washington Post analysis, South Dakota ranks 47 out of 50 states in the number of new tests reported in the last seven days per 100,000 residents. The state has completed 1,313 total tests per 100,000 people for the past seven days. 

Louisiana: The state has ordered bars to close, but there are exceptions. Drinking establishments in New Orleans have been allowed to remain open for indoor service. That makes Orleans Parish the only parish in Louisiana that can keep bars open for indoor service, as based on state guidelines.

Nevada: A church in Las Vegas plans to host nearly 200 people at its services this week thanks to a court ruling that overturned limits allowed in church buildings. "This is a victory for churches in Nevada," said the Rev. Jimmy Morales, senior pastor at Calvary Chapel Lone Mountain.