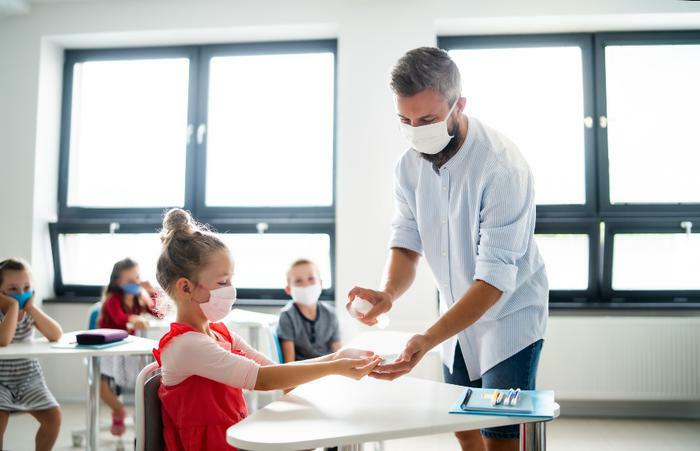 Coronavirus (COVID-19) ‌tally‌ ‌as‌ ‌‌compiled‌‌ ‌by‌ ‌Johns‌ ‌Hopkins‌ ‌University.‌ ‌(Previous‌ ‌numbers‌ ‌in‌ ‌parentheses.)‌
Total‌ ‌U.S.‌ ‌confirmed‌ ‌cases:‌ 45,558,326 (45,445,118)‌
Total‌ ‌U.S.‌ ‌deaths:‌ 737,615 (735,943)
Total‌ ‌global‌ ‌cases:‌ 244,264,890 (243,805,577)
Total‌ ‌global‌ ‌deaths:‌ 4,959,865 (4,951,264)‌
FDA panel meets to consider vaccinations for kids
Scientists advising the U.S. Food and Drug Administration (FDA) will meet today to discuss vaccinating young children against the coronavirus. Specifically, the medical experts will review data on whether the Pfizer vaccine is safe and effective when given to children between the ages of five and 11.
The FDA has already signaled its acceptance of the vaccine's use in children. Last week, it said results from a late-stage clinical trial appeared to check all the boxes for use in that age group.
The panel of experts, officially known as the Vaccines and Related Biological Products Advisory Committee, will review scientific data about the vaccine's safety and effectiveness in children, then decide whether to recommend the health agency authorize its use.
CDC says travel to Ukraine is risky
The Centers for Disease Control and Prevention (CDC) has placed Ukraine on its list of nations where a visit carries a "very high" risk of COVID-19. The country has been moved up to "Level 3" when it comes to the spread of the virus.
Previously this month, the CDC cautioned Americans about traveling to Singapore. It's a very different situation from August, when the agency warned about travel to 16 countries where the risk from the virus was high.
To reach the "very high" risk category, a country must report more than 500 cases of COVID-19 per 100,000 residents in the past 28 days.
Pandemic has affected decision-making, survey finds
Among the many repercussions of the COVID-19 pandemic, a new study suggests that it has made it harder for many people to make basic decisions. The survey from the American Psychological Association says the effects are most pronounced among young adults.
The survey found that nearly one-third of Americans agreed that sometimes they are so stressed about the coronavirus pandemic that they struggle to make even basic decisions, such as what to wear or what to eat. Forty-eight percent of millennials were likely to struggle with basic decisions, much higher than the rest of the population.
"The pandemic has imposed a regimen of constant risk assessment upon many," said Arthur Evans Jr., CEO of the organization. "Each day brings an onslaught of choices with an ever-changing context as routines are upended and once trivial daily tasks are recast in the light of pandemic life."
Around the nation