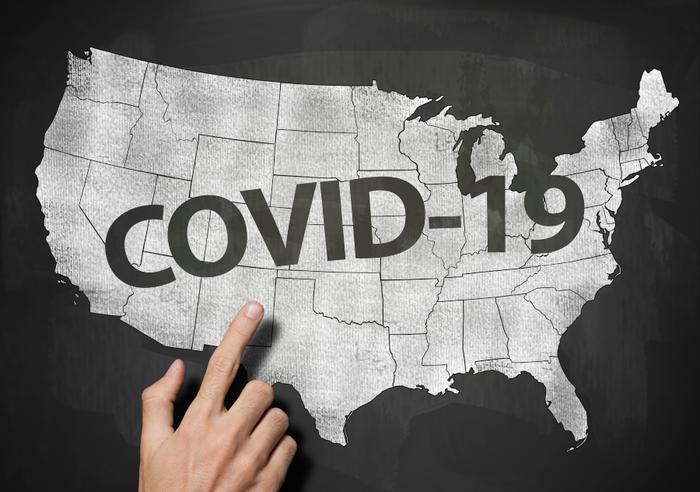 Coronavirus (COVID-19) tally as compiled by Johns Hopkins University. (Previous numbers in parentheses.)
Total U.S. confirmed cases: 5,161,612 (5,100,636)
Total U.S. deaths: 164,994 (163,533)
Total global cases:20,412,501 (20,130,206)
Total global deaths: 744,211 (737,394)
Rapid response test firms see spike in demand
From the beginning, the coronavirus (COVID-19) testing process in the United States has been plagued by delays, and it's actually gotten worse as more tests are administered. That's why there is growing interest in rapid-response tests.
The Wall Street Journal reports that health care providers and nursing homes are competing to get rapid-response COVID-19 antigen testing supplies from the two companies that landed emergency approval from the U.S. government to produce them.
The tests are seen as effective because they provide results much faster, helping doctors and nurses diagnose people before they can infect others. These tests identify virus proteins while molecular tests look for the virus's genetic material.
Two conferences say no to football this fall
The Big Ten and the Pac 12 are the first two major collegiate athletic conferences to postpone their 2020 football seasons. Both leagues determined that the threat to players and coaches is too great to play this fall.
Big Ten conference presidents and chancellors voted Tuesday to postpone all fall sports seasons, including football. A short time later, Pac 12 presidents took similar action.
So far, other major football conferences appear to be on the fence. At last report, the Southeastern Conference, Atlantic Coast Conference, and Big 12 schools still expect to play their schedules.
Rural areas see an increase in cases
After a spike in densely populated areas over the summer, some rural parts of the nation are beginning to see a sharp increase in COVID-19 cases. 
The Iowa Department of Public Health reported more than 200 new cases this week, raising the state's number of confirmed coronavirus cases to nearly 50,000. In addition, six more deaths had been reported since Monday morning's total, increasing the overall death toll in the state to 937.
Health officials in the Midwest are urging residents to continue to follow mitigation guidelines. They attribute the rise in cases to complacency, shutdown fatigue, and a desire to engage in normal summertime activities.
Fleeing New York
One byproduct of the coronavirus has been a migration from the cities to the suburbs, and nowhere is that more apparent than in the nation's largest city. The New York Post reports that moving companies in Manhattan have been swamped in recent weeks as thousands of the city's residents are heading for greener pastures.
"People are fleeing the city in droves," Moon Salahie, owner of Elite Moving & Storing in Yonkers, told the Post. 
Salahie says his company has been working nonstop since the city began Phase 1 of its reopening in June. He said 90 percent of the moves are to the suburbs and mostly involve families with kids worried about the school year. 
Survey shows consumers pining for restaurant dining
The pandemic has sparked a resurgence in home cooking, but there's now evidence that this novelty is wearing a little thin. The Oracle Food and Beverage study found that 59 percent of U.S. consumers say they plan to dine out as soon as they are able to. 
Despite that, the survey indicates that consumers will approach their favorite restaurants with a measure of caution. Forty percent said they would feel safer if they didn't have to touch restaurant menus but could access their choices from their mobile devices.
"Throughout the globe, we have seen communities rallying around local independents to ensure they make it through to the other side of this crisis," said Simon de Montfort Walker, senior vice president and general manager, Oracle Food and Beverage. "But while consumers are anxious to get back out there to eat, they come with new expectations on everything from menus to the technology used to increase safety."
Around the nation
New York: New York City restaurants could face a bleak future. According to Grub Street, nearly 200,000 food service employees are out of work. Roughly 80 percent of the city's restaurants could not pay their full rent in June.

Ohio: Gov. Mike DeWine has ruled out providing an additional $100 a week in unemployment benefits to supplement the extra $300 that Washington would provide under President Trump's executive order. The governor's office says the state can't afford the extra expense, a view echoed by a number of other governors.

Colorado: Phillips County, like many rural areas of the country, has been hard hit economically by the pandemic-induced shutdown, but local residents have stepped up to help businesses and their employees. When asked to donate all or part of their stimulus payments from the government, 125 residents wrote checks for a total of $90,000.