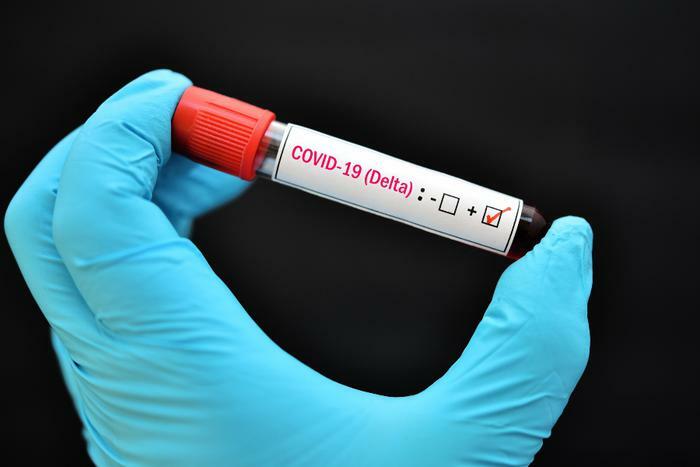 Coronavirus‌ ‌(COVID-19)‌ ‌tally‌ ‌as‌ ‌‌compiled‌‌ ‌by‌ ‌Johns‌ ‌Hopkins‌ ‌University.‌ ‌(Previous‌ ‌numbers‌ ‌in‌ ‌parentheses.)‌ ‌
Total‌ ‌U.S.‌ ‌confirmed‌ ‌cases:‌ 33,567,044 (33,555,657)‌
Total‌ ‌U.S.‌ ‌deaths:‌ 602,504 (602,143)
Total‌ ‌global‌ ‌cases:‌ 179,261,894 ‌(178,‌881,598)‌
Total‌ ‌global‌ ‌deaths:‌ 3,884,666 (3,875,176)‌
Researchers warn the Delta virus may be dominant in the U.S.
U.S. coronavirus cases, hospitalizations, and deaths are all declining as vaccination numbers rise. But people who aren't vaccinated are still at risk, and researchers say that risk may be increasing. In a new study, they say it's likely that the Delta variant of the virus, first discovered in India, may account for a majority of U.S. cases by next month.
That's a concern because the Delta variant spreads much more easily than the original strain of the virus. While people who have been vaccinated have a high level of protection, the variant has caused severe illness in the unvaccinated population, particularly among young people.
U.S. health officials agree. At a briefing on Tuesday, Dr. Anthony Fauci, President Biden's chief medical adviser, warned that the Delta variant is "currently the greatest threat in the U.S. to our attempt to eliminate COVID-19." 
July 4 vaccination goal probably not attainable
With less than two weeks to go, the White House has conceded the inevitable. The nation will not achieve President Biden's goal of vaccinating 70% of the adult population by the Independence Day holiday, although it will come close.
White House COVID-19 coordinator Jeffrey Zients said age appears to be a factor. Data from the Centers for Disease Control and Prevention (CDC) shows a high vaccination rate among older people. Zients says that after age 30, the numbers aren't as good.
"The reality is, many younger Americans have felt like COVID-19 is not something that impacts them and have been less eager to get the shot," he said.
U.S. agents reportedly have seized unapproved treatment drugs
Federal agents have seized unapproved and counterfeit versions of the COVID-19 treatment drug remdesivir, breaking up what appears to be a highly sophisticated smuggling ring.
The Wall Street Journal quotes sources as saying the drugs were apparently produced in Bangladesh and India and then shipped to the U.S., where smugglers picked them up and moved them across the border to Mexico, apparently for distribution there.
According to the Journal, the Mexican market for the illicit drug is huge. U.S. Customs and Border Protection officers have reportedly captured more than 100 shipments.
Around the nation