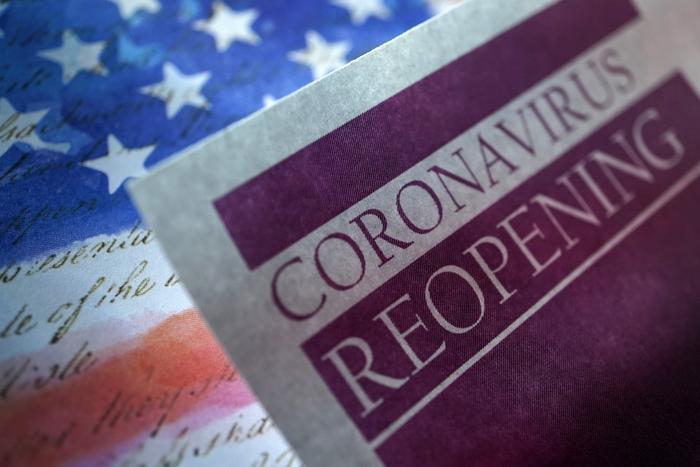 Coronavirus (COVID-19) tally as compiled by Johns Hopkins University. (Previous numbers in parentheses.)
Total U.S. confirmed cases: 1,532,212 (1,510,988)
Total U.S. deaths: 92,128 (90,432)
Total global cases: 4,931,057 (4,836,329)
Total global deaths: 324,240 (319,213)
CDC issues guidance for reopening economy
The Centers for Disease Control and Prevention (CDC), without fanfare, has issued its 60-page guidance for reopening schools and businesses shut down by the coronavirus (COVID-19). 
The document calls for a "three-phased approach" for reducing social distancing measures and suggests six "gating" indicators to determine when enough progress has been made to move on to the next phase. Topping the list of gating indicators is a downward trend in new cases. The CDC says jurisdictions must also be ready to act if things take a turn for the worse.
"Given the potential for a rebound in the number of cases or level of community transmission, a low threshold for reinstating more stringent mitigation standards will be essential," the CDC said.
United Airlines teams with Clorox to clean up
As airlines struggle to win back customers, United Airlines is boosting its cleaning protocols by introducing what it calls United CleanPlus. To deliver what it terms "an industry-leading standard of cleanliness" aboard its aircraft, United will work with Clorox and Cleveland Clinic to inform and guide the effort.
The cleaning, safety, and social distancing steps will include touchless kiosks in select locations for baggage check-in, sneeze guards, mandatory face coverings for crew and customers, and giving customers options when flights are more full. 
Clorox products will be used at United's hub airports, and medical experts from the Cleveland Clinic will advise on new technologies, training development, and quality assurance programming.
Highway death rate increases in March
With fewer cars on the nation's highways because of the coronavirus shutdown, it was generally expected that highway deaths would go down. In fact, insurance companies rebated premiums to customers based on that belief.
Preliminary estimates from the National Safety Council suggest that the number of deaths did fall, but the death rate per miles driven went up by 14 percent year-over-year. That suggests the drivers who were still on the road were more likely to be in a fatal accident.
The actual number of miles driven fell by nearly 19 percent compared to the same time period last year. The mileage death rate per 100 million vehicle miles driven was 1.22 in March compared to 1.07 in March 2019.
Scientists: Some coronavirus patients don't spread the disease
From the beginning of the pandemic, doctors have warned that the coronavirus is extremely contagious and have stressed the need for social distancing and enhanced hygiene. And it is -- in some cases.
But Science Magazine reports that scientists who have been studying the data now believe that most people who get the virus aren't contagious at all. The data also seems to indicate that the virus is most likely to spread when people are together in large in-door groups and is less likely to spread when two or three individuals are together outdoors.
Jamie Lloyd-Smith, a researcher at UCLA, says most people with the virus don't spread it. Other scientists agree. "Probably about 10 percent of cases lead to 80 percent of the spread," said Adam Kucharski, a researcher at the London School of Hygiene & Tropical Medicine.
Reopening businesses fear lawsuits
The coronavirus may open up an entirely new line for personal injury lawyers, who normally focus on traffic accidents. As businesses begin to reopen in most states, small businesses are especially worried about lawsuits if employees or customers get sick.
"There is no playbook for this," Harold Kim, president of the U.S. Chamber Institute for Legal Reform, told CNBC. "Litigation is particularly damaging to Main Street because the level of potential damages can close down your doors." 
Kim said businesses all over the country have expressed liability concerns. He thinks there could be a surge in worker liability lawsuits if coronavirus infection rates continue to rise.
Around the nation
New York: Gov. Andrew Cuomo reports that the state's infection and death rate has gone from the worst in the nation to about average. At a news briefing, Cuomo said there were 105 deaths in the last 24 hours. At the height of the outbreak in April, more than 800 people a day died from the virus.

New Mexico: Officials at the University of New Mexico are telling students to be ready for just about anything this fall. Some may be on campus and some may take classes online, with school now scheduled to begin August 17. "We are planning for a hybrid in-person and online model for the fall," said Cinnamon Blair, the chief marketing and communication officer at UNM. 

South Carolina: South Carolina was among the first states to reopen, but Gov. Henry McMaster says another shutdown is not out of the question. "What would have to happen is we would have to see a spike in the numbers. We would have to understand (that) we would have to do more," the governor said in an interview with WYFF-TV in Columbia.