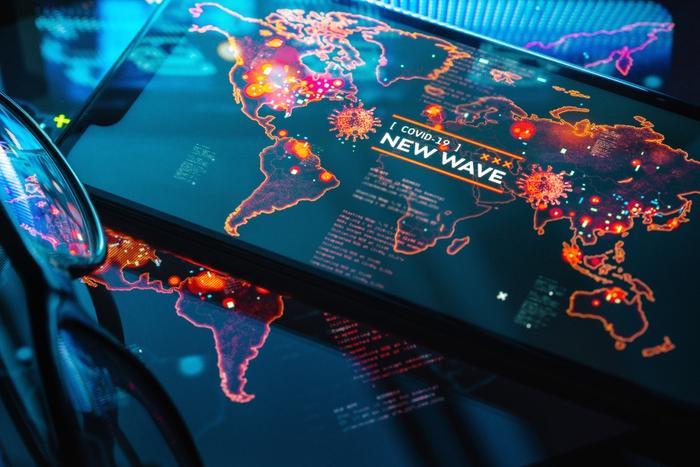 Coronavirus (COVID-19) tally as compiled by Johns Hopkins University. (Previous numbers in parentheses.)
Total U.S. confirmed cases: 6,401,371 (6,370,081)
Total U.S. deaths: 191,842 (191,168)
Total global cases: 28,219,714 (27,925,613)
Total global deaths: 910,460 (905,089)
Number of cases rises three consecutive days
The number of new coronavirus (COVID-19) cases in the U.S. is on the rise again, with the number going up three days in a row this week.
An analysis of data compiled by the COVID-19 Tracking Project at Johns Hopkins University shows that there were more than 35,000 cases of the virus. The total number of people who have contracted COVID-19 is more than 6.4 million, and nearly 192,000 people have died.
A slight increase in testing may be responsible for the rising numbers. On the other hand, the increase coincides with college students' return to campus, where a number of outbreaks have been reported.
CDC: Reopening restaurants likely spread the virus
A report from the Centers for Disease Control and Prevention (CDC) suggests that reopening bars and restaurants has made the COVID-19 situation worse.
"Eating and drinking on-site at locations that offer such options might be important risk factors associated with SARS-CoV-2 infection," the CDC said in its report. "Efforts to reduce possible exposures where mask use and social distancing are difficult to maintain, such as when eating and drinking, should be considered to protect customers, employees, and communities."
The CDC reached its conclusion after studying a group of people from states with varying degrees of reopening who had tested positive for the virus.
Dr. Fauci says America needs to 'hunker down'
The rise in coronavirus isn't a surprise to most infectious disease experts, who have consistently warned that America could experience a "second wave" of the virus with the approach of colder weather.
"We need to hunker down and get through this fall and winter because it's not going to be easy," said Dr. Anthony Fauci, director of the National Institute of Allergy and Infectious Disease (NIAID).
Fauci said he's been discouraged when looking at the latest curve, saying the country never was able to reduce the number of weekly cases to the level he had hoped.
Dr. Gottlieb says the lockdown could have been avoided
Now that we're six months into the pandemic, Dr. Scott Gottlieb, former head of the U.S. Food and Drug Administration (FDA), is looking in the rearview mirror at what might have been. Different action early on, he says, might have avoided the economic lockdown.
If the U.S. had a national testing program ready to roll out in February. Gottlieb says policymakers might have been able to target stay-at-home measures without bringing the entire economy to a screeching halt.
"When history looks back on this, the lack of situational awareness at that time is going to be remembered as the great failing," he told CNBC.
Marketing experts offer advice to restaurants
New York City will reopen indoor dining at restaurants at the end of the month, but at only 25 percent of capacity. Some industry analysts say that, without take-out and outdoor seating, it's almost impossible for restaurants to be profitable under those restrictions.
Marketing experts at the University of Delaware have studied restaurants and their unique challenges and have offered some advice for survival. Number one on the list is maximizing the take-out aspect of the business. 
Timothy Webb, an assistant professor of hospitality business management, says restaurants should also avoid altering the delivery menu from traditional pricing. "Customers know what prices are expected when ordering and the corresponding quality based on price," he said.
Around the nation
Illinois: Gov. JB Pritzker has announced that a new employment program, using state and federal funds, will hire 1,300 people to engage in pandemic-related work. The announcement came as the hospitalization rate in the state continued to climb.

Ohio: States seeing their coronavirus cases mounting just happen to have a number of colleges within their borders. Miami University of Ohio has become the scene of the state's second-worst outbreak.

Texas: The Texas American Federation of Teachers, whose members are mostly dubious of plans to reopen classrooms, has launched a new website to track COVID-19 cases, deaths, and questionable safety conditions in schools. Users will be able to search by district and campus and see reports on a map of Texas.