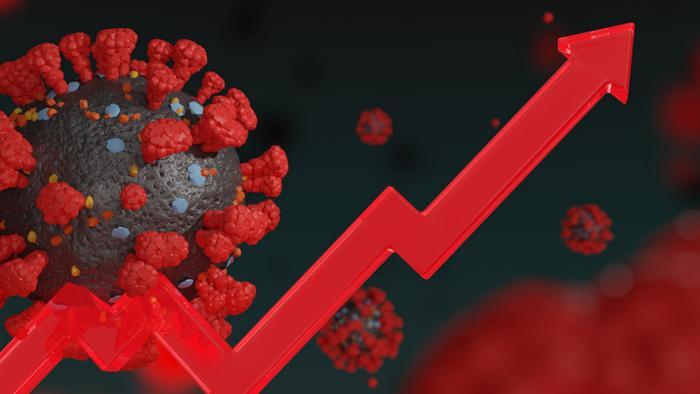 Coronavirus (COVID-19) tally as compiled by Johns Hopkins University. (Previous numbers in parentheses.)
Total U.S. confirmed cases: 12,433,676 (12,261,424)
Total U.S. deaths: 258,172 (256,837)
Total global cases: 59,401,413 (58,819,529)
Total global deaths: 1,401,106 (1,391,311)
Model projects 20 million cases by January 20
A new model constructed by researchers studying the coronavirus (COVID-19) estimates that the U.S. could reach a total of 20 million cases of the virus in just two months. That's nearly double the current level of cases in the pandemic that began in March.
The forecasting model, produced by researchers at Washington University in St. Louis, predicted that the U.S. would hit the 20 million infections mark by January 20, the day President-elect Biden is sworn in.
Cases have been rapidly increasing since early October. The severity of the illnesses is rising along with the number of cases, with a record 85,000 people being hospitalized with COVID-19.
Death rate appears to be leveling off
Despite the surge in new COVID-19 cases and the dramatic rise in hospitalizations, researchers say patients are surviving at a greater rate than early in the pandemic.
STAT News cites health experts who suggest the improvement is driven by a more refined understanding of the disease and how to treat it, along with less strain on the health care system. They cite other factors as well.
Steroids that help save some lives are being used more widely. Also, many of the recent infections involve younger, healthier people who sought treatment in the early stages of the disease's progression.
COVID-19 forces changes in Black Friday plans
The trend was in place for the last several years, but this year, for the first time, consumers are expected to do more Black Friday shopping online than in stores. A survey by Deloitte suggests that 61 percent of consumers plan to look for bargains online instead of in stores.
For those who do plan to visit retail stores on Friday, 30 percent said a retailer's COVID-19 safety precautions are almost of equal importance to getting a great deal on a gift.
"As COVID-19 brings added health and financial concerns, both consumers and retailers are reimagining Thanksgiving shopping traditions," said Rod Sides, vice chairman at Deloitte. 
AAA predicts 50 million Thanksgiving travelers
The Centers for Disease Control and Prevention (CDC) couldn't have made it any clearer. It "strongly advised" Americans not to travel over the Thanksgiving holiday, traditionally one of the busiest travel times of the year.
Americans appear to be ignoring the warning. AAA estimates that 50 million people will travel over the "Thanksgiving holiday travel period," the five-day period beginning Wednesday, Nov. 25. 
The U.S. just recently surpassed 12 million cases of COVID-19, and Dr. Anthony Fauci -- the nation's top infectious disease expert -- is warning that Thanksgiving travel could have a grim ripple effect this holiday season.
Boys more at risk of falling behind with remote learning
When schools closed with most of the economy during the spring, classes became virtual. While it was an adjustment for just about everyone, pre-pandemic studies suggest that boys struggle more than girls with virtual learning and are more at risk of falling behind.
The Wall Street Journal reports that researchers have now found that students have fallen far behind in math because of the loss of in-person instruction that began last spring. The reading losses weren't as steep.
"I expect that remote learning will widen the existing achievement gap between boys and girls, assuming that remote learning demands greater conscientiousness than classroom learning," Rose O'Dea, a postdoctoral researcher who led the analysis, told The Journal.
Around the nation
California: Gov. Gavin Newsom and his family are spending Thanksgiving week in quarantine. The governor's family is taking that precaution after three of his children were exposed to someone with the coronavirus. 

Texas: State health officials have compiled a list of the first health care workers who will get the coronavirus vaccine once one receives government approval. They include hospital-based nurses, doctors, custodians, and other workers who have direct contact with patients, as well as the staff of nursing homes or other long-term care facilities who work directly with residents.

New Jersey: New statewide restrictions took effect this week in a bid to slow the surge in new coronavirus cases. The outdoor gathering limit is now 150 people, down from 500.