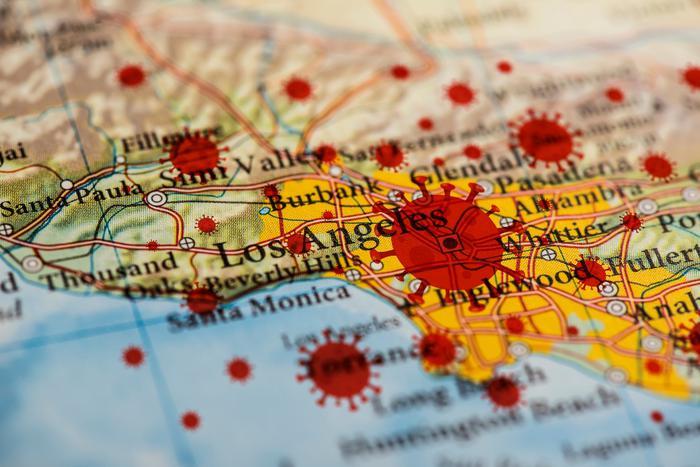 Coronavirus (COVID-19) tally as compiled by Johns Hopkins University. (Previous numbers in parentheses.)
Total U.S. confirmed cases: 14,779,499 (14,275,983)
Total U.S. deaths: 282,436 (279,920)
Total global cases: 67,250,219 (65,923,945)
Total global deaths: 1,539,559 (1,577.403)
California faces new lockdown order
California officials imposed a new lockdown order Sunday night, instructing 33 million residents to stay in their homes as the coronavirus (COVID-19) spins out of control. The order affects about 84 percent of the state's population.
Officials say hospital admissions in Southern California have surged, with the capacity of intensive care units (ICU) nearly maxed out. Five counties in the San Francisco Bay area will also begin lockdown restrictions in the coming days.
In the affected areas, hair and nail salons, playgrounds, zoos, museums, card rooms, aquariums, and wineries have been ordered to close. Nonessential travel and use of hotels for leisure will be banned, as well as overnight, short-term stays at campgrounds. At this point, retail stores are still open but at 20 percent of capacity.
Birx warns the virus is going from bad to worse
The weekend brought more grim assessments of the coronavirus pandemic and the human toll it is taking on the country. Dr. Deborah Birx, a key member of the White House Coronavirus Taskforce, told NBC's Meet The Press Sunday that the virus will likely be regarded as the most trying event in U.S. history.
"This is not just the worst public health event. This is the worst event that this country will face, not just from a public health side," Birx said. 
She joins Centers for Disease Control and Prevention (CDC) Director Dr. Robert Redfield in trying to raise public awareness about the gravity of the situation. Last week, Redfield predicted the months ahead could be "the most difficult time in the public health history of this nation."
Surveys show hesitancy to take the vaccine
Polls and surveys continue to show that a significant segment of the population is expressing reservations about taking the COVID-19 vaccine once one is approved. In a survey of New York City Firefighters, 55 percent said they would not take it.
Up to 40 percent of respondents in other polls have said they would not take the vaccine right away, citing concerns about possible side effects. Health officials say a large percentage of the population needs to be inoculated to achieve "herd immunity."
In an exclusive interview with ConsumerAffairs, a physician who participated in the Moderna clinical trial said there are good reasons why the mRNA vaccines were developed so quickly, citing vast improvements in vaccine technology over the last two decades.
Blood test may show your chances of dying from COVID-19
Scientists in the UK have developed a blood test that they say can give doctors a view of a patient's chances of surviving COVID-19. At the onset of symptoms, protein analysis of a blood sample reportedly indicates the eventual severity of the illness and odds of survival.
The researchers identified 27 marker proteins that were found in the blood of COVID-19 patients. They tell The Guardian that follow-up research indicates that these proteins can be a reliable indicator of how the patient should be treated.
The discovery may help explain why some patients recover from the illness quickly or have no symptoms at all while others become severely ill.
Health official blames behavior, cold weather for spike
Health and Human Services (HHS) Secretary Alex Azar says there are two main reasons why the country is currently experiencing a surge in coronavirus cases. One reason is cold weather. The other, he says, is behavior. People aren't being as careful as they were early in the pandemic.
"People are going indoors, they're not minding the three W's," Azar, told Fox News. "Our advice is always the same. Wash your hands, watch your distance, wear face coverings."
The U.S. is approaching 200,000 new cases of the virus each day. The rising number of infections is burdening the nation's hospitals, with more than 101,000 currently admitted for COVID-19 treatment.
Around the nation
New York: Cases of the coronavirus are spreading quickly, even in states like New York that have enacted strict mitigation protocols. State health officials report cases in New York rose nearly 42 percent in the week ending Saturday.

Colorado: Every state has lost jobs due to the pandemic, but Colorado has been hit especially hard. The 2021 Colorado Business Economic Outlook estimates that the state is on track to lose nearly 149,000 jobs in 2020 and won't fully recover until 2023.

Virginia: Students in Virginia Beach public schools could return to all-virtual learning soon because of a spike in coronavirus cases in the city and region. Officials' concern has focused on data that shows cases are rising.