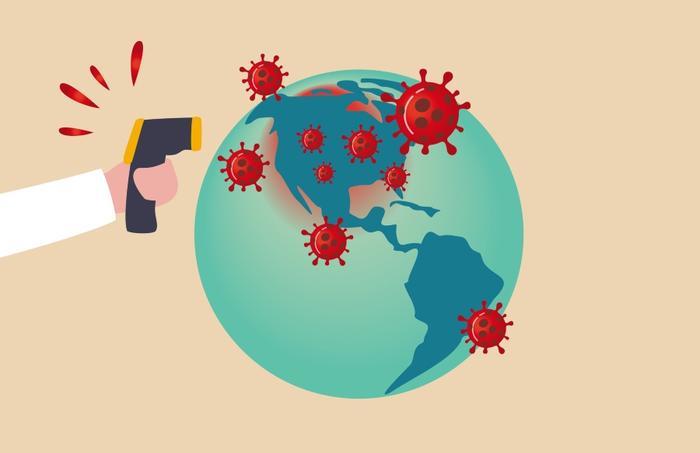 Coronavirus (COVID-19) tally as compiled by Johns Hopkins University. (Previous numbers in parentheses.)
Total U.S. confirmed cases: 3,131,953 (3,067,780)
Total U.S. deaths: 133,420 (132,498)
Total global cases: 12,323,502 (12,093,782)
Total global deaths: 555,977 (550,689)
Another daily record number of cases
The coronavirus (COVID-19) pandemic shows no sign of slowing down, setting one daily record after another. On Thursday, researchers at Johns Hopkins University counted 63,000 new cases, eclipsing the record of 60,000 cases set the day before.
The total number of cases of the virus in the U.S. is more than 3.1 million, accounting for nearly 25 percent of the world's cases. The country with the next largest number of cases is Brazil, with just over 1.7 million.
In the U.S., the surge in cases has largely been limited to southern and western states. The latest victims have tended to be young people, whose symptoms are generally less severe. Some states, like Texas, have reclosed bars and nightclubs frequented by young people.
Encouraging news about treatment drug
Gilead Sciences has more news about its experimental antiviral drug remdesivir, and it's encouraging. The drug company says the drug appears to reduce the risk of death in patients with the most severe symptoms of the virus.
The company said use of the drug not only reduced the risk of death by 62 percent, but it is also associated with "significantly improved clinical recovery." The conclusions are based on an analysis of 312 patients enrolled in a Phase 3 clinical trial.
"While not as vigorous as a randomized controlled trial, this analysis importantly draws from a real world setting and serves as an important adjunct to clinical trial data," said Dr. Susan Olender of Columbia University Irving Medical Center.
Pandemic's effect on fuel prices may be ending
One silver lining to the pandemic has been extremely low gasoline prices throughout the spring, but that bonus may be ending, according to the International Energy Agency (IEA). It reports that oil demand was sharply lower in the first half of 2020 because of the economic shutdown associated with the coronavirus.
Going forward, the IEA said demand will still be lower, but the decrease should be about half of what it was in the first half of the year. It notes that the industry has already started to recover.
Consumers, meanwhile, continue to enjoy gasoline prices about 60 cents a gallon cheaper than at this time last year. AAA reported Friday that the national average price of regular gasoline is $2.19 a gallon, just two cents more than a week ago.
Researchers hope antibody treatment can be done outpatient
Texas researchers say they are investigating whether plasma from COVID-19 survivors can be used in outpatient settings to prevent the onset and progression of the virus. Currently, the treatment is administered to hospital patients, in many cases those in intensive care units (ICU).
Two clinical trials are underway at The University of Texas Health Science Center at Houston (UTHealth). The tests will determine whether convalescent plasma can prevent infection or severity of disease in outpatients, including health care workers who have had a high-risk exposure to COVID-19.
Some health experts believe the combination of blood plasma antibody treatments and remdesivir could serve as a bridge until a safe and effective vaccine against COVID-19 is approved.
Gottlieb: 'We're not counting nearly all the cases'
Former Food and Drug Administration (FDA) Commissioner Dr. Scott Gottlieb has long suggested that the U.S. has a lot more COVID-19 cases than are being counted. In an appearance on CNBC this morning, Gottlieb suggested one in 150 people in the U.S. have been infected.
"We must have well over 700,000 infections a day, even though we're only diagnosing about 60,000," Gottlieb said.
The former FDA commissioner said the U.S. should have had a national policy to contain the virus, suggesting early reopenings in some states are now posing threats to states where aggressive action was taken. 
Around the nation
New York: The pandemic has already had an effect on New York City's rental market. According to industry sources, rents are falling because tenants are leaving the city in droves. The city's apartment vacancy rate in June was double that of June 2019.

Michigan: New outbreaks of the coronavirus are not just happening in the South and West. Michigan's top medical official says that the state is seeing an alarming rise in cases. "So right now, the data is not looking so good," said Dr. Joneigh Khaldun.

Virginia: Doctors addressing a Richmond School Board meeting said reopening schools probably would not contribute to a spike in coronavirus cases. Dr. Danny Avula, the Director for Richmond and Henrico County health districts, gave a virtual presentation suggesting that schools are not a significant source of community transmission.