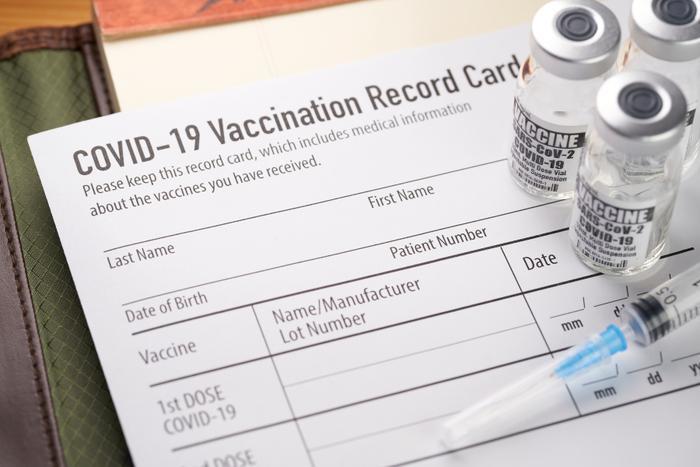 Coronavirus (COVID-19) tally as compiled by Johns Hopkins University. (Previous numbers in parentheses.)
Total U.S. confirmed cases: 15,189,410 (14,975,348)
Total U.S. deaths: 286,521 (284,131)
Total global cases: 68,469,834 (67,803,057)
Total global deaths: 1,561,953 (1,549,332)
U.K.: Pfizer vaccine not for people with allergies
Two days into the coronavirus (COVID-19) vaccine rollout, British health officials have a warning for people with a "significant history of allergic reactions" -- they should not take the vaccine produced by Pfizer and BioNTech.
The warning was issued after two hospital workers received the vaccine and had "adverse reactions." Officials said both suffered from allergies.
"Any person with a history of a significant allergic reaction to a vaccine, medicine or food (such as previous history of anaphylactoid reaction or those who have been advised to carry an adrenaline autoinjector) should not receive the Pfizer BioNTech vaccine," British health officials said in an advisory.
New York may require residents to be vaccinated
With polls showing hesitation on the part of the public -- including New York City firefighters -- to be vaccinated against the coronavirus, a state lawmaker is proposing a bill that could make it mandatory.
Assemblymember Linda Rosenthal of Manhattan introduced a bill that would require the state to "safely and effectively" distribute an FDA-approved vaccine "in accordance with the department [of health]'s COVID-19 vaccination administration program." 
The bill would give the state health department authority to "mandate vaccination" if state officials determined that not enough people are getting the vaccine to promote herd immunity.
Senators claim gaps in U.S. testing capacity
Sen. Elizabeth Warren (D-Mass.) and Sen. Tina Smith (D-Minn.) say they have discovered "significant gaps" in the nation's ability to administer and collect COVID-19 tests.
In a letter to Health and Human Services (HHS) Secretary Alex Azar, the two lawmakers said they made their discovery after consulting with the major diagnostic testing labs in the U.S. The letter said the labs reported a significant spike in testing demand during the summer that stretched resources, making more federal aid necessary.
At a White House event Tuesday, President Trump defended U.S. efforts to test for the virus and said new tests are on the way that will make the process easier.
Roche partnering with Moderna in last stage of vaccine trial
Moderna is in the final stages of its vaccine clinical trial, and it's teaming up with Roche's diagnostics unit to determine how well the vaccine works. Moderna will use a Roche test, which received emergency use authorization (EUA) from the U.S. Food and Drug Administration (FDA) last month, to measure antibodies produced by the vaccine.
"Measuring the quantitative levels of anti-RBD SARS-CoV-2 antibodies using Roche's test will help Moderna to gain valuable insights into the correlation between protection from vaccination and antibody levels," Roche said in a press release. 
The company said the information could play a role in assessing if, or when, an individual needs revaccination. It could also help "answer other clinically relevant questions."
UC Davis joins Novavax trial
Pfizer and Moderna are likely to get conditional FDA approval for their vaccines in the coming days, but that doesn't mean the search for a vaccine to stamp out COVID-19 has ended. Other vaccine efforts are still underway.
University of California (UC) Davis is partnering with Novavax in a clinical trial for that company's vaccine. The vaccine, called NVX-CoV2373, has a subunit from the spike protein in SARS-CoV-2, the virus causing COVID-19. The subunit is combined with an adjuvant, a boosting agent to improve the body's immune response to the vaccine.
"The vaccine contains protein antigens that cannot replicate or cause COVID-19. The antibodies generated to the vaccine will help protect the body from the real, fully-potent virus," said Stuart Cohen, head of Infectious Diseases at UC Davis Health. 
Around the nation
New York: A restaurant trade group in New York has taken aim at Gov. Andrew Cuomo's announcement that indoor dining may shut down in New York City soon if COVID-19 hospitalization rates keep going up. "Governor Cuomo has given New Yorkers a one-week warning that indoor dining will likely be shut down, regardless of the number of positive cases that are specifically tied back to restaurants," Melissa Fleischut, president and CEO of the New York State Restaurant Association, said in a statement.

Tennessee: State health officials have reported 100 deaths in a day for the first time since the pandemic began. The state also reported 6,019 new cases of COVID-19, as well as an 18.47 percent positive for Tuesday.

Oklahoma: Doctors and nurses at SSM St. Anthony Hospital in Oklahoma City invited TV reporters into the ICU, hoping state residents would be shocked into wearing masks and social distancing. "Just do the right things and wear a mask, and follow CDC guidelines because honestly, we're strained to the point where this is not sustainable. We can't do this anymore," said critical care unit charge nurse Stephanie Collier.