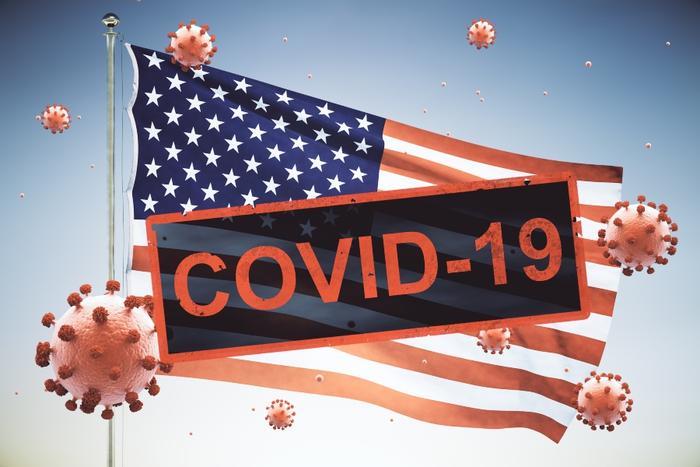 Coronavirus (COVID-19) tally as compiled by Johns Hopkins University. (Previous numbers in parentheses.)
Total U.S. confirmed cases: 6,941,248 (6,902,930)
Total U.S. deaths: 202,170 (201,120)
Total global cases: 31,944,038 (31,673,086)
Total global deaths: 977,881 (972,372)
Nearly half of states see an increase in cases
A report from the Centers for Disease Control and Prevention (CDC) shows that 21 states have reported an increase in coronavirus (COVID-19) cases, raising concern among health officials that the fall and winter could bring about a new wave of illnesses.
CDC Director Dr. Robert Redfield told a Senate committee this week that an estimated 90 percent of the U.S. population could still get the virus, meaning there can be no let-up in virus-mitigation efforts.
U.S. Food and Drug Administration (FDA) Commissioner Dr. Stephen Hahn also testified at the hearing, telling lawmakers the agency would approve a vaccine as quickly as possible but would not "cut corners."
United Airlines will offer passengers a COVID-19 test
United Airlines says it will test a program where passengers can be screened for the coronavirus (COVID-19) before their flight. It's designed to help travelers avoid quarantine periods that some destinations require before visiting.
The pilot program will first test passengers on flights from San Francisco to Hawaii starting October 15. Passengers can choose from taking a rapid-results test at the airport or a self-administered test, taken at home, in the days before the flight.
The airline said it worked closely with Hawaii officials to ensure that any United customer – both visitors and Hawaiian residents returning home – who tests negative on either test would not be subjected to the state's current 14-day quarantine requirement.
Doctors in Houston say the virus has mutated
Scientists at Houston Methodist Hospital are reporting a disturbing find. When the second wave of the coronavirus hit the city in mid-May, their analysis showed a mutated virus strain linked to higher transmission and infection rates than the coronavirus strains that caused Houston's first wave. 
Their research reveals that the virus has been capable of adapting, surviving, and thriving since early March – making it more important than ever to get a handle on its evolution as the medical community works to discover effective vaccines and therapies.
While this mutation has been linked with increased transmission and infectivity -- as well as a higher virus load in the nasopharynx that connects the nasal cavity with the throat -- the mutation did not increase disease severity, researchers said.
Unemployment claims remain stubbornly high
Initial claims for unemployment benefits totaled 870,000 last week, much higher than most economists predicted. Wall Street analysts were looking for a number closer to 850,000.
The Labor Department report suggests that the job market is recovering from the pandemic at a slower rate than expected. While a number of businesses are hiring, it's evident that just as many are still laying off employees.
The report also revised the previous week's jobless claims upward by 6,000 to 866,000. The four-week moving average was 878,250, a decrease of 35,250 from the previous week's revised average. 
Are asymptomatic patients fueling the increase in cases?
A new study by researchers at the University of California Santa Barbara is suggesting a possible reason why the U.S. is experiencing a significant increase in COVID-19 cases. The scientists began their research in early summer when they noticed cases in Santa Barbara surging unexpectedly.
They determined that the source of many of the new cases was asymptomatic patients -- people who carried the virus but didn't have symptoms and who were unaware they were sick.
"Because they never feel sick, they could unknowingly transmit the virus to others as they circulate in the community," said UC Santa Barbara biologists Carolina Arias.  She said the same applies to presymptomatic individuals — those who do not have symptoms at the time of the test but develop them later.
Around the nation
South Carolina: The state legislature has come to an agreement on a proposal to spend $693 million in federal pandemic aid. The plan calls for using the bulk of the money -- $420 million -- to replenish the state's unemployment benefits fund. 

Illinois: Gov. J.B. Pritzker is warning counties in the state's northwest region that a spike in new coronavirus cases could mean new restrictions on businesses and social gatherings. The area includes Rockford and Northern Illinois University.

Wisconsin: The issue of classroom safety is reaching a boiling point in suburban Milwaukee as school district officials accuse some parents of knowingly sending their infected children to school. "When you have parents lying to contact tracers, refusing to get kids tested, that's just beyond the pale," Washington County Board member Don Kriefall told the Milwaukee Journal Sentinel.