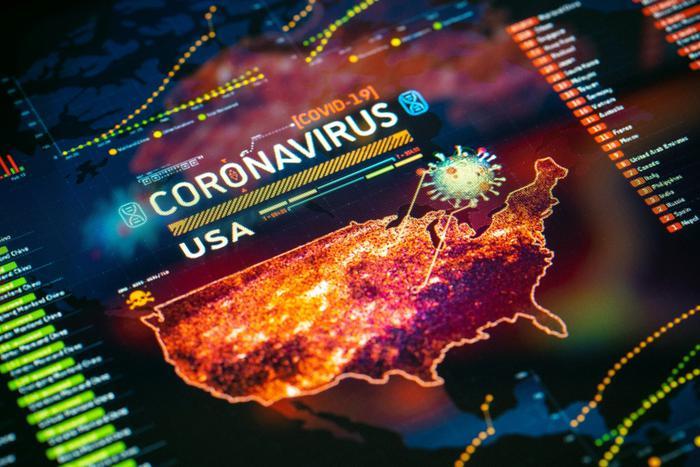 Coronavirus (COVID-19) tally as compiled by Johns Hopkins University. (Previous numbers in parentheses.)
Total U.S. confirmed cases: 9,499,459 (9,394,282)
Total U.S. deaths: 233,836 (232,742)
Total global cases: 48,280,133 (47,582,064)
Total global deaths: 1,227,891 (1,217,540)
U.S. reports more than 100,000 cases in a day
Another grim milestone has been exceeded. An analysis of data collected by Johns Hopkins University shows that the U.S. added 102,831 new cases of the coronavirus (COVID-19) on Wednesday, the largest one-day total since the pandemic began and the first time it's exceeded 100,000.
A review of the data shows that the number of infections since late January is closing in on 10 million. The number of people who have died is over 233,000 and is rising by more than 1,000 deaths per day.
This week has been particularly alarming for doctors. The number of hospitalizations is rising, and at least 36 states have reported more new cases of the virus than the previous week.
Negative test doesn't mean you aren't infected
Tests to determine whether someone is infected with the coronavirus aren't all that accurate. There have been many "false positive" results, only to show the patient doesn't have the virus when retested.
The flip side is also apparently true -- patients sometimes get negative results when they have, in fact, been infected. Scientists now say it can take days before a new infection shows up on a COVID-19 test.
"We know that the incubation period for COVID-19 is up to 14 days. And before that, you can be testing negative, and have no symptoms," emergency medicine physician Dr. Leana Wen told CNN. "But you could actually be harboring the virus and be able to transmit it to others."
The job market may be holding steady
Despite a lack of new stimulus from Washington and a surge in new COVID-19 cases, the number of new layoffs appears to be declining. The Labor Department reports that first-time claims for unemployment benefits last week were fewer than the week before, continuing a downward trend.
The weekly government report shows 751,000 workers filed for unemployment benefits, compared with 758,000 the previous week. It was the third week in a row that claims were below 800,000, with the four-week moving average falling to 787,000.
We'll get a clearer picture of the job market on Friday when the Labor Department releases its October employment report
Minnesota at risk of 'falling behind'
The resurgence of COVID-19 cases in the Midwest has left its mark on many states that months ago thought they had the pandemic under control. Minnesota is a case in point.
Minnesota Health Commissioner Jan Malcolm says the turnaround has been "disheartening and alarming." There have been 31 new deaths, bringing the statewide total to 2,530. Just as concerning, the seven-day positive test rate has jumped to 12.3 percent.
"It feels like we're losing ground," she said in a news briefing. "We're falling behind the rapid spread of this virus."
Study finds which recovered patients have the strongest immunity
Recently, there's been conflicting data about how long patients retain immunity once they recover from COVID-19. It doesn't appear to be the same for every individual who becomes infected with the virus.
A new study led by researchers from Brigham and Women's Hospital found that while antibodies against the virus declined in most individuals after disease resolution, a subset of patients sustained anti-virus antibody production several months following infection. Those who recovered fastest seemed to retain the most robust protection.
"The kind of immune response we're seeing in these individuals is a bit like investing in an insurance policy -- it's the immune system's way of adding a potential layer of protection against future encounters with the virus," said Dr. Duane Wesemann, an immunologist and associate physician in the Brigham Division of Allergy and Clinical Immunology and an associate professor at Harvard Medical School.
Around the nation
New Jersey: Hospitalizations hit a four-month high this week, according to state health officials. New Jersey reported more than 1,800 new coronavirus cases on Tuesday, marking 17 straight days of more than 1,000 new cases.
Ohio: Gov. Mike DeWine is a Republican who has been a strong advocate of masks from the beginning, somewhat different from President Trump's position. "I certainly wish the president had a more happy relationship with masks," DeWine told NPR's All Things Considered. "We know so much more today than we knew in March. We now know that these masks really work."

Iowa: State lawyers admitted in a court filing that an aide to the governor told health department officials to withhold testing data despite Iowa's open records law. A former health department spokesperson is suing the state, saying she was fired for trying to comply with the law.