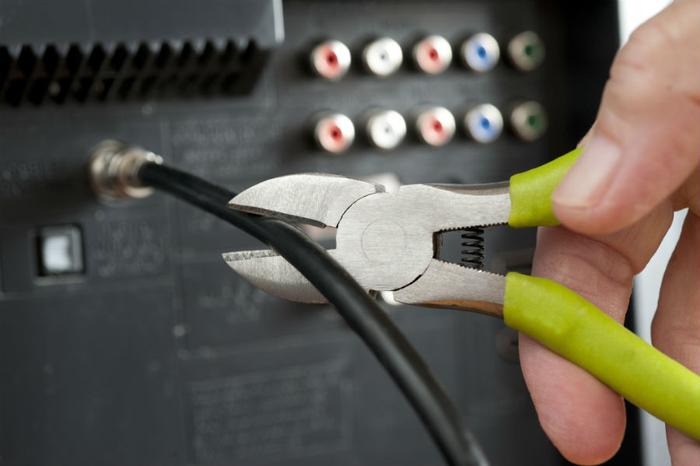 The nine largest traditional TV providers lost about 1.1 million subscribers between July and September 2018, according to research firm MoffetNathanson.
The latest figure represents another staggering quarterly subscriber loss for cable and satellite TV providers.
Satellite services DirecTV and Dish Network lost the most subscribers last quarter, accounting for two-thirds of the industry losses. Dish lost 367,000 customers -- its highest quarterly loss ever. DirecTV lost a net 297,000 subscribers during the quarter.
Cord cutting accelerates
In August, MoffettNathanson said the rate at which consumers were canceling their pay TV subscriptions appeared to be dropping. The firm found that pay TV subscriptions declined by 3.3 percent in Q2, a one-tenth of a percentage point improvement over the prior year.
However, the latest tally suggests the trend of cord cutting isn't slowing down at all. Rich Greenfield, a media and technology analyst with financial services firm BTIG in New York, said the last quarter was TV's "third-worst quarter in industry history and worst since Q2 2016."
The 1.1 million figure doesn't account for live TV streaming services such as Dish's Sling TV, AT&T's DirecTV Now, Hulu with Live TV, and YouTube TV. But streaming alternatives haven't reported growth high enough to offset subscriber losses to traditional TV, partially due to competition from other digital live TV alternatives such as Google's YouTube TV, Sony's PlayStation Vue and Fubo TV and non-live TV alternatives like Amazon and Netflix.
Analysts at MoffetNathanson said slowing growth for DirecTV Now and Sling TV could suggest "price sensitivity" of broadband-delivered TV services may be "turning out to be greater than expected" after several of the services raised their prices.