---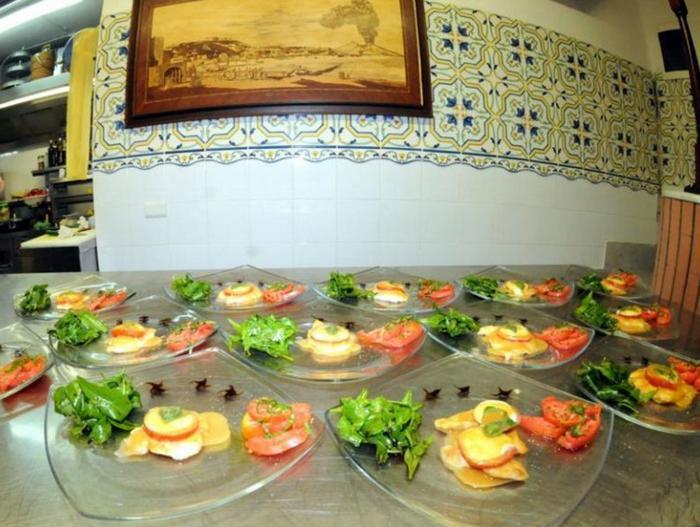 Looking for a unique travel experience? I found one when I took a cooking lesson and learned how to prepare a Neapolitan style four-course meal at the Sorrento Cooking School in Sorrento, Italy.  
A driver from the school picked us up at the hotel, and while leading us to the kitchen we could smell the enticing aroma of fresh brewed coffee. "What fun," I thought. "We'll start out by sitting and sharing a cup of coffee." Was I ever wrong; the coffee was for the Tiramisu and there was to be no sitting.
We had our very own personal chef, Rosa, who spoke no English and an assistant chef and interpreter, also named Rosa. After donning Sorrento Cooking School aprons we jumped right in. The instruction and prep were non-stop and we were on our feet the entire class. Rosa did a small amount of prep, such as pureeing the tomatoes, but we were immediately tasked with making dough.
Four courses from appetizer to dessert
We started with the appetizer. For the panzerotti di ricotta (ricotta fritters) we added layers of butter and kneaded the dough, again and again, a total of seven times. The ricotta fritters were then rolled into a log and cut with a ravioli cutter. Next, they were deep fried. The ricotta fritters were absolutely delicious, but too high in calories to try at home.
When it came to the gnocchi alla sorrentina (home-made gnocchi with tomato sauce and basil), I tried my best to shape the gnocchi, but could not get the hang of it. Rosa rolled it and gave it a tug with a spoon that left an indentation. She did not like what I was doing and wound up doing far more than she intended.
Rosa demonstrated how to make pesce all'acqua pazza (sea bass with capers and black olives, otherwise known as "Crazy Fish.") It was relatively simple; Rosa sautéed the fish in a pan with white wine and a couple of ladles of tomato sauce, letting it rest until the rest of the dinner was finished.
The last course we made was the Tiramisu in a free-form style. On a serving plate we layered the sponge biscuits, known to us as ladyfingers, dipped in that heavenly coffee we smelled. The only difficulty was whipping the cream with a fork – that's correct; I said a fork. Did I fail to mention there was no food processor, electric mixer, or any modern tools? My husband struggled to whip the cream. We were each making a Tiramisu so I took his bowl to help him whip. Rosa scolded him, saying "sfaticato!" Our assistant chef Rosa translated it as "lazy, in a loving way."
No clean-up necessary
After fixing this wonderful meal it was time for dinner. The four of us toasted with sparkling wine and my husband and I sat at a long table with places set for us. We were served the four courses with wine. When it was time to go, both Rosa's hugged and kissed us – a truly special day.
Tiramisu was already my favorite dessert and I order it all the time. It is made in many different ways, but the very best one I have ever eaten was at the Sorrento Cooking School.
---