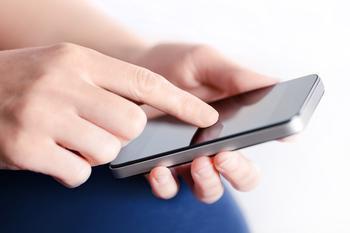 We hear a lot of complaints about cell phones -- smartphones in particular. But one group of people who don't seem to complain as much are those who use their devices to operate other connected devices.
That was an unusual detail that turned up in J.D. Power's latest Full-Service Smartphone Satisfaction Study.
The researchers found overall satisfaction with smartphones, no matter what kind, was 49 points higher among customers who also used voice-activated home assistants such as Amazon Echo. If a customer had a smart thermostat or smart appliance, satisfaction was even higher.
"Customers with connected home devices are able to improve the comfort, convenience and security of their living spaces with their smartphone devices," said Kirk Parsons, senior director and technology, media & telecom practice leader at J.D. Power. "They are more satisfied with their smartphones because they can take advantage of smartphone functionalities that other customers may not be aware of."
Connectivity makes a difference
Parsons says consumers seem to prefer products that connect with other devices, and manufacturers who provide that feature, he says, will have an advantage.
But even though a smartphone might have the capability, it's only customers who take advantage of it who seem to have the higher level of satisfaction. And the more you use it, the more satisfied you tend to be.
The study found that no matter the brand, customers expressed greater satisfaction. In the past year, Motorola had the biggest increase in overall satisfaction, rising by 15 points. HTC was 12 points higher, with Apple rising by six points.
Among carriers, AT&T logged the biggest increase in overall smartphone satisfaction, followed by Sprint, Verizon Wireless, U.S. Cellular, and T-Mobile.
Apple topped the list in overall satisfaction in the full-service carrier segment, followed closely by Samsung. Apple was also number one in overall performance and features.