---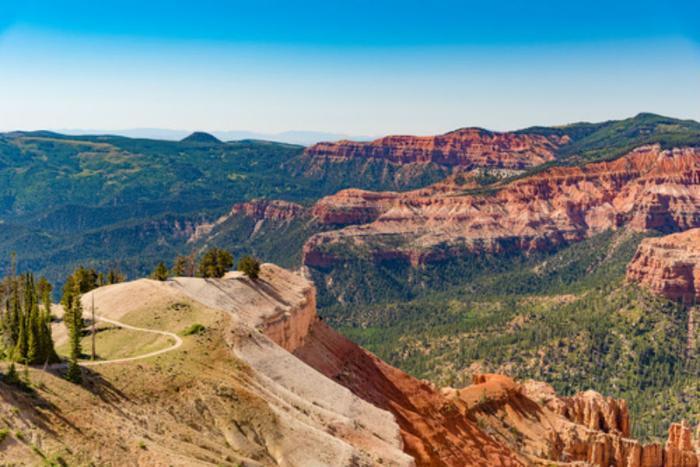 Back in April, President Trump ordered a review of 27 national monuments across the U.S. to see if their designations by past presidents under the Antiquities Act was done with an "appropriate level of input from all parties." The idea is that if they weren't then the government could choose to reduce or eliminate protected areas, opening them up to business interests.
On Monday, the public comment period for the review ended and environmental organizations say the consensus is clear: consumers want these national monuments to remain intact.  
"It's no wonder communities across the country mobilized to submit over 2.7 million comments so quickly when people overwhelmingly disapprove of the Trump administration's extreme anti-environmental policies," said Gene Karpinski, president of the League of Conservation Voters.
National monument review
According to Courthouse News, the review encompassed more than 11.2 million acres of land predominantly in the American West and 217 million acres of ocean on both sides of the country.
Proponents of reducing or eliminating federal ownership of monument lands say that the current designations are too intrusive, restrictive, and stop states from using their own land how they'd like to. They say this is especially true in states like Nevada, Utah, Arizona, and California where protected lands are highly concentrated.
Department of the Interior Secretary Ryan Zinke is leading the review and says that his investigation aims to assess all sides of the debate before making a final decision. "Too often under previous administrations, decisions were made in the Washington, D.C. bubble, far removed from the local residents who actually work the land and have to live with the consequences of D.C.'s actions," he said on Tuesday. "This monument review is the exact opposite."
However, environmental groups claim that Zinke is already in the pocket of corporate interests, as seen by his recommendation to shrink 1.9 million acres of protected land in Southeastern Utah to allegedly open it up for drilling.
"Zinke's public-review process was a complete sham from start to finish. He's doing the bidding of corporate polluters," charged Randi Spivak, director of the Center for Biological Diversity's public lands program.
Senators speak out
Several U.S. senators have spoken out on the matter, with many saying that reducing protections for monument lands would be devastating to the states they represent.
"Erasing America's national monuments from the map would devastate our thriving outdoor recreation economy, which generates 68,000 jobs and $6.1 billion of annual economic activity in New Mexico alone," said New Mexico Sen. Martin Heinrich. "And it could easily lead us down a slippery slope toward the selloff of our public lands to the highest bidder and massive giveaways of public resources to special interests."
"The Trump administration's process to roll back our national monuments is not rooted in Western values, where we sit down, compare priorities, and find common ground," said Colorado Sen. Michael Bennet. "Throughout the comment period, Coloradans and people across the country agreed, sending a unified message: Leave our national monuments alone."
Is it legal?
While other officials like Utah Congressman Rob Bishop have become proactive in trying to undo national monument designations on the grounds that they lack local support, are excessive, or violate the Antiquities Act, legal experts have questioned whether the President Trump has the right to reduce or eliminate national monuments at all.
On July 7, 121 lawyers specializing in environmental law sent a letter saying that the review "reflect(s) profound misunderstandings of both the nature of national monuments and the president's legal authority under the Antiquities Act." They point out that Congress, not the President, has plenary authority over public lands, and that any attempt by the executive office to pass land-use decisions would be illegal.
The group references an interim report on the Bears Ears protected area in Utah which "implies that the president has the power to abolish or diminish a national monument after it has been established by a public proclamation that properly invokes authority under the Antiquities Act," saying that such an assumption "is mistaken."
The Department of Interior's review of the national monuments is scheduled to end on August 24.
Thanks
Keep an eye on your inbox, the lastest consumer news is on it's way!
Unsubscribe easily whenever you want
---