---
Ashley Carson Cottingham is the director of policy & advocacy for Compassion & Choices, and a former staff director for the Senate Health, Education, Labor and Pensions Subcommittee on Primary Health and Aging.
---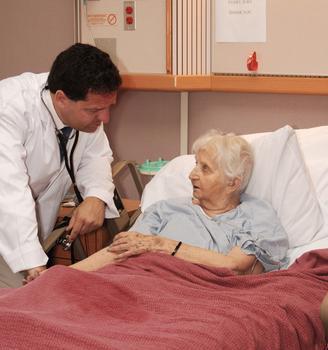 Patients, families and their advocates deserve and demand that they receive only the medical treatment that they want. Nothing less… and nothing more. There is an unfortunate and growing trend of individuals receiving medical treatment against their wishes, most often occurring in violation of their advance directives at the end of life when they cannot speak for themselves.
The last place most Americans want to end up is in the hospital, hooked up to machines and tubes at the end of their life. Polling indicates that people overwhelmingly want to die at home surrounded by their loved ones. So why is it that we are seeing an increase in the numbers of people dying in the intensive care unit (ICU)? And why do terminally ill patients who are eligible for home hospice care when they have six months left to live are never told of this preferred option until the last few days of their life?
The nation's leading end-of-life consumer advocacy group, Compassion & Choices has joined a powerful group of consumer health organizations, including the Consumer Coalition for Quality Health Care and The National Consumer Voice for Quality Long-Term Care, whose goal is to end the scourge of unwanted medical treatment.
Informed choices
The "Campaign to End Unwanted Medical Treatment" is designed to empower consumers to make informed choices about their treatment preferences and demand that health care professionals to honor their wishes. The groups honor the dignity, values, and health care choices of every person at each state of his or her illness. They also ensure that consumers have access to a full range of well-coordinated care and treatment options, including curative care, palliative care, and hospice care. Finally, they help consumers enforce their constitutionally-protected right to decline unwanted medical treatment.
In the coming months, the Campaign to End Unwanted Medical Treatment will host a luncheon series in Washington, D.C., aimed at educating policymakers about unwanted medical treatment and formulating a plan to stop the practice. Each lunch will be followed by the release of a policy issue brief from the National Academy of Social Insurance recapping the important policy recommendations made at the luncheon. The first brief is titled, "Getting the Treatment You Want: Is Anyone Listening?" and is available for free online.
The first luncheon occurred in early December and featured Dr. Bernard "Bud" Hammes, the director of the internationally renowned Medical Humanities and Respecting Choices® for Gundersen Health System. He talked about how this program's amazing 98 percent success rate in educating consumers about advance care planning and medical staff to follow patient's choices.
To learn more about the Campaign to End Unwanted Medical Treatment – and to take action – please visit www.endumt.org
---