---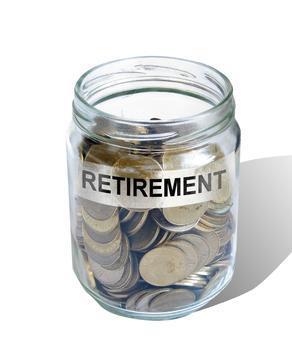 Online financial advice is more available than ever but U.S. consumers are more likely to have a dedicated financial adviser than to use a financial website for obtaining advice on investing or planning for their retirement, 44% vs. 20%, a new survey finds.
More investors also report using either a financial advisory firm that gives them access to live advice through a call center (35%) or a friend or family member (29%) to advise them than using a financial website.
These findings are based on a Wells Fargo/Gallup Investor and Retirement Optimism Index survey conducted in late June and early July. The survey is based on a nationally representative sample of U.S. investors with $10,000 or more in stocks, bonds, mutual funds, or in a self-directed IRA or 401(k).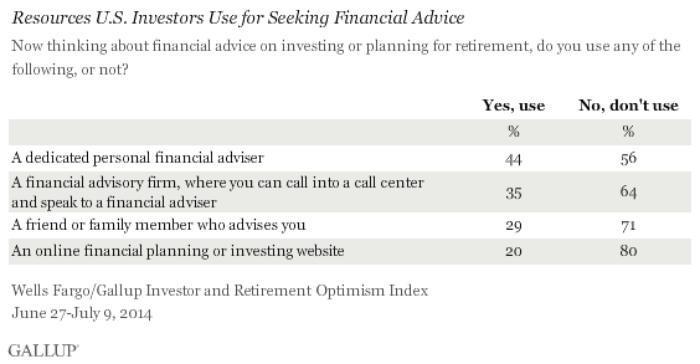 Among U.S. investors, retirees and investors with $100,000 or more in invested assets are significantly more likely than their counterparts to use a dedicated financial adviser. Nonretirees are more likely than retirees to use financial websites or to rely on friends and family.
Overall, 79% of investors report using at least one of the four financial advice resources tested, while 21% don't use any of the four. The largest percentage of investors -- 40% -- rely on just one source, but almost a third (30%) rely on two, 7% on three, and 2% on all four.
Part of what may be suppressing investors' use of online financial resources is that less than a third of investors -- 30% -- say they are "very comfortable" using online or mobile technology for their investing or financial advice needs. While another 27% are somewhat comfortable, 43% say they are not comfortable with this.
There is a strong generational skew in these attitudes, with 66% of nonretirees indicating at least some level of comfort with online financial advice tools, compared with 35% of retirees. Additionally, men have a higher comfort level than women.
---