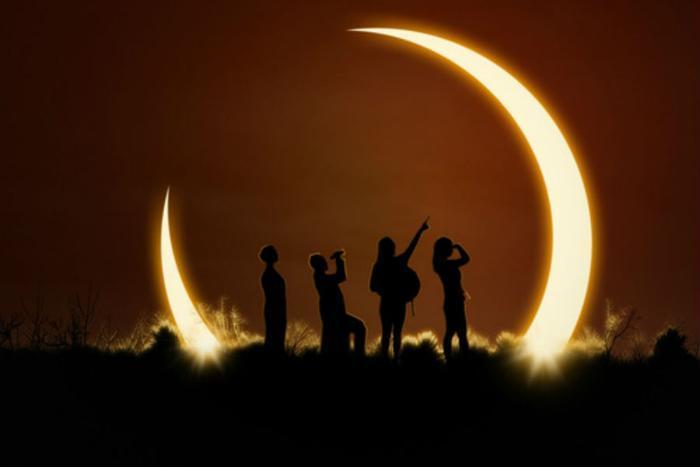 The total eclipse of the sun, on August 21, is shaping up as big business, especially for the travel industry.
While the manufacturers of certified glasses and viewers will undoubtedly do a huge business in the next 12 days, airlines and hotels also expect to do very well.
In a very rare event, the total eclipse will be visible in a 70 mile wide strip that extends 3,000 miles across the continent, from Portland, Ore., to Charleston, S.C.
That means no matter where you live in the continental U.S., you are not terribly far from a prime viewing spot, just by heading north or south. Hotels in and near the 70 mile wide strip are mostly booked solid, and at premium rates.
Cheapflights.com has analyzed the searches on its site and found cities that lie within the 70 mile wide zone are seeing huge increases in search traffic. The biggest increases are cities in the West.
Lots of interest in Casper, Wyo.
Casper, Wyo., has seen the biggest increase, with traffic up 1,064%. At an altitude of over 5,000 feet, Casper may have the best chance of clear skies on August 21, a necessity if you're going to actually see the moon pass between the earth and the sun.
Redmond, Ore., is seeing a 271% spike in traffic. Redmond is considered a prime eclipse-viewing spot as well, since it normally has 300 days of sunny weather each year.
In the East, Columbia, S.C. is seeing a 245% increase in traffic. It isn't a normal tourist destination, but the eclipse is giving consumers a reason to go. Local tourism officials hope they stick around to see some of the other, more earth-bound sights.
Spotlight on small towns
"One of the best things about this eclipse is that it's shining the spotlight on many destinations that are wonderful slices of America," said Amanda Festa, editor at Cheapflights.com. "The small towns and cities that top our list are seeing big percentage spikes for the solar show in part because they're not the biggest of destinations. But, with or without the eclipse excitement, there's plenty to keep you entertained in each of them."
While the eclipse will be total in the 70 mile wide strip, it will be viewable as a partial eclipse in much of the U.S. To see how much of the eclipse you'll be able to observe where you live, check out this interactive tool.