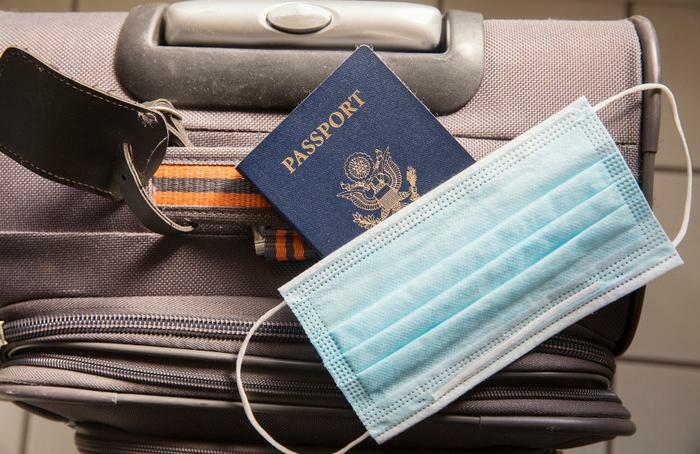 Over the course of the COVID-19 pandemic, all U.S. airlines have lined up to require that passengers wear masks onboard flights. Effective Tuesday, February 2, that all changed. A new federal mandate from the Transportation Security Administration (TSA) says that anyone flying somewhere in a plane, riding on a bus or a train, or taking a taxi or rideshare from point A to point B must wear a face covering. 
The TSA's action will also support the Centers for Disease Control and Prevention (CDC) Emergency Order requiring that individuals wear masks on conveyances and at stations, ports, or similar transportation hubs. 
Step-by-step requirements for air travelers
For air travelers in particular, the new rule goes a bit further. It requires passengers to mask-up onboard all flights that touch down in the U.S., within all U.S. airports, and at TSA checkpoints.
The TSA laid out the full slate of musts it's requiring air travelers to adhere to:
Where the rule starts: It doesn't matter if a traveler checks in at security with an airport Travel Document Checker (TDC) or by submitting checked baggage for screening; all passengers who "appear" to be over the age of 2 must properly wear a face mask throughout the entire security screening process. 
Proving who you are: The security officer at the TDC will ask travelers to temporarily lower their mask to verify their identity. 
If you're not wearing a mask: If a traveler approaches the TDC without a mask, they will be asked to wear or obtain one to proceed. What happens if you don't? That appears to depend on how you react when you're confronted. 
"If you replace your mask right away, you might get off with a verbal warning," determined ThePointsGuy's Zach Honig in his review of the new rule. "If you don't, you may be removed from the airport and banned from the airline. If the situation escalates, you might be looking at steep fines, or criminal penalties, if law enforcement becomes involved."
How the TSA defines "face covering": The TSA -- acting in accordance with the CDC Order -- says that "face masks should cover the nose and mouth and fit snugly against the sides without gaps. Masks can be either manufactured or homemade and should be a solid piece of material without slits, exhalation valves, or punctures. While medical masks and N-95 respirators fulfill CDC and TSA's requirements, face shields and/or goggles are not an acceptable substitute for the use of a mask; however, they may be used in addition to an acceptable mask."
Exceptions: There's not much wiggle room in the mandate for those who are looking for an exemption. At present, the only exceptions detailed by the CDC are for:
Travelers under the age of two;

Travelers who are vomiting, but only until the vomiting stops;

Travelers who are experiencing shortness of breath;

Travelers who have a disability defined by the Americans with Disabilities Act; and

Travelers who simply can't breathe without supplemental oxygen and are wearing an oxygen mask.
Those are the basic rules. However, there are lots of ifs, ands, or buts that the CDC details on its website and that carriers -- meaning airlines or public transportation companies -- may require in addition to the basics. 
Anyone planning to travel domestically or internationally -- via any mode of transportation -- would be smart to double-check for any updates from the CDC, as well as the transportation provider they'll be using, prior to taking their trip.