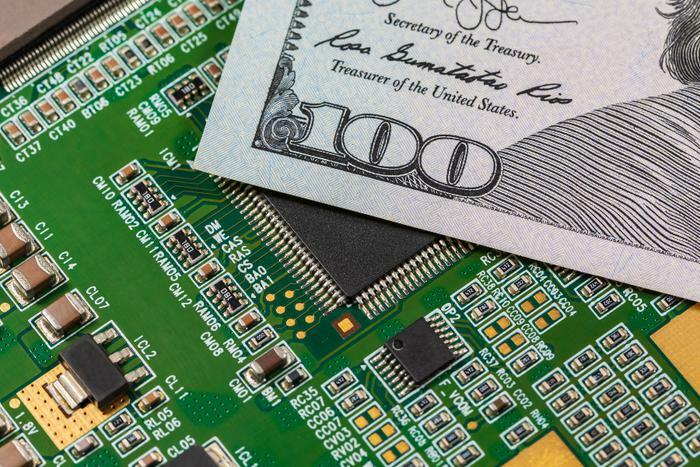 The computer chip shortage caused by the coronavirus (COVID-19) is beginning to be felt by consumers. Some electronic devices have already gone up in price, and more price increases could be coming in the future.
The virus and resulting lockdowns led to a big increase in spending on devices. Business meetings began being conducted on Zoom, and children needed laptops and tablets to attend school remotely. The surge in demand drew down chip inventories, and semiconductor companies have struggled to catch up.
Car buyers have already felt the pain
Consumers first felt the impact of the chip shortage when they went car shopping. Automakers canceled chip orders early in the pandemic when they expected a lengthy sales decline. Instead, car sales began to rise as people who once relied on ridesharing and public transit realized they needed a vehicle.
But auto manufacturers found they couldn't get enough chips because electronics companies were ahead of them in line and chip-making requires a long lead time. So there were fewer new cars on dealer lots.
With more buyers than cars, dealers have been in the driver's seat. They haven't had to negotiate as much or provide incentives, resulting in consumers paying more for a new car than they might have before the pandemic.
With a shortage of new cars, consumers began snapping up late-model used cars. Prices for used cars hit an all-time high at the beginning of May, an increase that is at least indirectly attributed to the computer chip shortage.
Electronics prices go up
The Wall Street Journal reports that the shortage is now raising the retail prices of some electronic devices. It found that the price of computer chips is going up, and manufacturers are passing those costs on to consumers. A case in point is a popular laptop made by Taiwanese manufacturer ASUSTek Computer Inc. Its price on Amazon rose by $50 this month. In another example, an HP Chromebook went from $220 to $250 this month, a nearly 14% increase
HP PC prices are up 8% year-over-year, and printer prices have risen by at least twice that. HP CEO Enrique Lores told the Journal that higher prices are the result of component shortages that may not end any time soon.
It's an issue that other manufacturers face as well. One industry analyst says consumers may not see across the board price increases, but they are likely to see fewer discounts between now and the end of the year.
That could be a good reason to pay attention to the two- and three-day sales promotions that Amazon, Walmart, Target, and some other big retailers are offering this week. It could be the last chance for electronics bargains for a while.