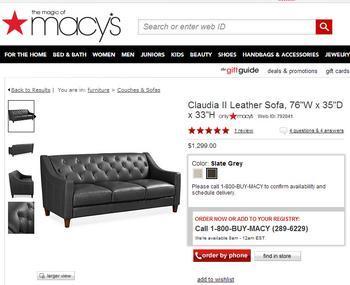 Nothing like settling back and zoning out on a nice piece of leather furniture, right? Well, yes, but unless that leather adorns the bucket seats of your high-end BMW, it may turn out to be something of a disappointment in the long run.
Besides the damage inflicted on the creature that once wore that leather as its skin, real leather furniture also takes a big bite out of your hide, monetarily speaking, and -- most significantly -- may not be nearly as durable and long-lasting as you had hoped.
Fact is, real leather is very expensive. It is, after all, the hide of an animal and thus somewhat precious, not only to the beast in question but to the rest of us as well, since in this age of rampant veganism, there's just not as much readily available leather as there used to be.
"Leather" isn't always leather
What you frequently wind up with when you spend hundreds or thousands of dollars on leather furniture is what's called "bonded" leather. This doesn't mean bonded as in backed by the full faith and credit of whatever government may still be solvent. No, it means different pieces of hide are bonded -- glued, to put it bluntly -- together to look like the entire hide of a critter.
It's also called "reconstituted" leather. Vinyl, in other words.
Jennifer Convertibles has taken a lot of heat from consumers who find their leather furniture doesn't last as long as they had expected but the problem really is much more widespread than that. We were browsing around the furniture reviews the other day and could barely get past all the issues with leather furniture from Macy's. In fact, we thought we had blundered into the Jennifer section but no, it was Macy's.
"I purchased a leather couch and love seat, which were fairly expensive, in 2008 and thought that I was buying quality all-leather furniture thinking that Macy's was a quality retailer. I also purchased the 'Worry No More' 7-year protection plan," David of Naples, Fla., wrote earlier today.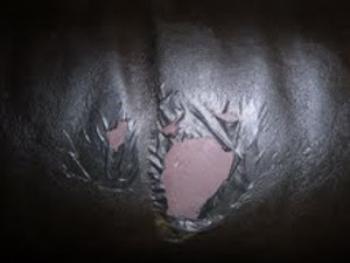 "This fall I had a puncture in my couch and had a very difficult time trying to get someone to inspect the damage and repair it as covered under the protection plan," David said. "I finally got a rep to come to the house and he told me that it was covered. Also the leather ...which turned out to be a leather thin film coating over a backing was separating from the backing around the puncture...definitely not the quality I thought I was purchasing."
David said that after some back-and-forth, Macy's told him the damage was not covered.
Leaves a bad taste
Christopher of Rehobath Beach, Del., had a similar problem with his leather-covered dining room chairs.
"About 3 months ago, the leather seats on these seldom-used chairs started cracking all over, and within the last week every one of the chairs has developed large holes and tears in the fabric that go all the way through to the seat padding underneath," he said. "I contacted the Worry No More customer service number earlier this week to file a complaint, and explained the problem. They immediately denied the claim while I was still on the phone, saying 'cracks' are not a covered item."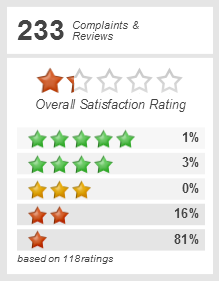 David protested that the cracks "have developed into rips, tears, and holes, and the warranty document clearly states that it covers 'Rips, Tears or Punctures' in upholstered leather furniture." No dice. Macy's insists the damage isn't covered.
Ditto Linda of Spring Lake Heights, N.J. "My four-year-old leather sofa looks awful! The cushions are bumpy and unsightly. The Worry no More Protection Plan is a waste of money, cushions aren't covered even though they are falling apart," she fumed.
Meanwhile, in Novato, Calif., Gerardo tells a similar tale.
"We bought a Natuzzi leather sofa from Macy's in 2009. Two years later all the webbing straps under the sofa that holds the foam broke. The foam was breaking down and the wood frame between the cushions that held the foam was sticking out between the cushions... OUCH!" he said.
"We took the extended warranty Macy's offered from "Worry No More." Well, you'd better worry a lot more because the extended warranty only covers accidental stains and spills, which we were only informed about when we went to use the warranty," Gerardo said.
What to do?
What's the lesson in all this? Avoid Macy's? Frankly, that's not the answer. Avoiding leather might be more like it, unless you're willing and able to spend $10,000 or so on a true top-end piece of furniture. 
As Daryl Nelson wrote on these pages last August: "Many are sadly surprised when they realize the true difference between bonded and genuine leather is its durability, and plenty of retailers leave this important detail out just to close the sale."
A Missouri newspaper ran a syndicated version of Daryl's story, which sparked this response from St. Louis Leather Repair: "Bicast leather (also known as bycast leather, split leather, or PU leather) is a split leather with a layer of polyurethane applied to the surface and then embossed. Bicast was originally made for the shoe industry and recently adopted by the furniture industry. Furniture made with Bicast exhibits none of the characteristics associated with genuine leather; it will not develop a patina or suppleness nor otherwise 'improve with age'. With constant use the polyurethane layer will crack and split."
Enough said?