---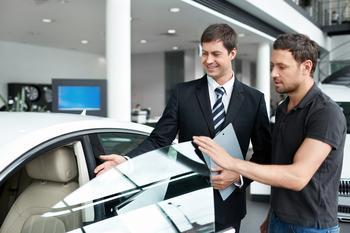 One way you can measure the health of the economy is to observe what consumers are doing with their money. In May, they spent millions of dollars buying new cars. In fact, a number of car makers have reported record sales for the month.
Kia reported its best May ever with sales of 52,327 vehicles. The American-built Optima sedan led Kia sales for the 18th consecutive month. The Sorento CUV, built in Georgia, was a close second in sales.
For Hyundai, last month was its second-best May ever. The Korean car maker reported sales of 68,383 units, up two percent over last May. The company credits, in part, an increasingly strong economy.
"An across-the-board strengthening of key economic indicators and our strong Assurance Connected Care message drove prospective customers to our showrooms in droves to check out the strongest lineup of cars and CUVs in our history," said Dave Zuchowski, executive vice president of national sales. "Our core products – Elantra, Sonata and Santa Fe – all performed exceptionally well. We're selling each of these three U.S-built products as fast as we can build them."
Ford checked in with its best May since 2006, with sales rising 14%. The Ford Escape notched its best month ever, with sales up 26% year over year. The Ford Fusion had its best-ever May, achieving a sales record for a fourth straight month.
Truck sales
The Ford F-Series pickup had its best May since 2005 with sales rising 31%. Since the popular truck is often used in construction, its strong sales can be viewed as an indicator that construction activity may be rising. F-Series sales broke 70,000 for the first time since May 2007, just before the start of the Great Recession.
Chrysler, meanwhile, recorded its 38th-consecutive month of year-over-year sales gains. Eight Chrysler Group vehicles set sales records in May.
The Ram Truck brand's 24 percent increase was the largest sales gain of any Chrysler Group brand in May. It reinforces the idea that construction demand is prompting many operators, large and small, to update their small truck fleets.
Toyota also had a huge month, with sales of more than 207,000 units, a 2.5% increase over last May's total. And consumers weren't just buying Camrys. Toyota's Lexus unit reports sales of more than 22,000, up 3.6% from last year.
Luxury in demand
"Luxury vehicle sales are benefitting from the rise in consumer confidence," said Jeff Bracken, Lexus group vice president and general manager. "The ES and LS are two of the hottest models in the luxury industry with sales doubling in May, and we expect this momentum to carry through the summer months."
May sales at luxury nameplate Mercedes Benz bear that out. Mercedes sold more than 27,000 vehicles last month, an 8.3% increase over May 2012.
"We've seen five consecutive months of best-ever sales in 2013," said Steve Cannon, president and CEO of Mercedes-Benz USA. "Strong momentum carries across the entire product line from our entry models straight up to the high end, which is ahead 24% for the year. We expect to build on that pace as more of our completely redesigned E-Class models roll into dealer showrooms."
The highest Mercedes-Benz volume performers for May were the C, E and M-Class model lines.
Honda
Honda posted May sales of 125,649 units, up 5.2% from May 2012. Light trucks proved to be a strong segment, with sales of the CR-V up 8.4% and the Pilot up 11.3%. The Honda Accord set the pace for sedans with an 11.7% sales increase.
"Virtually every Honda vehicle we sold in May represents a purchase by an individual customer, which means Accord, Civic, CR-V and Odyssey will maintain their industry-leading retail sales performance in 2013," said John Mendel, executive vice president of Sales at American Honda.
Nissan had an exceptionally strong May as well. Strong gains by top-selling models such as Altima, Pathfinder, Sentra and Rogue helped Nissan North America set a new May U.S. sales record, with deliveries up nearly 25%.
The strong auto sales recorded in May is more than just good news for dealers, tire manufacturers and auto workers. New cars tend to be a lot more fuel efficient than older models. It's perhaps no coincidence that as new car sales rise, U.S. gasoline demand continues to fall.
---