---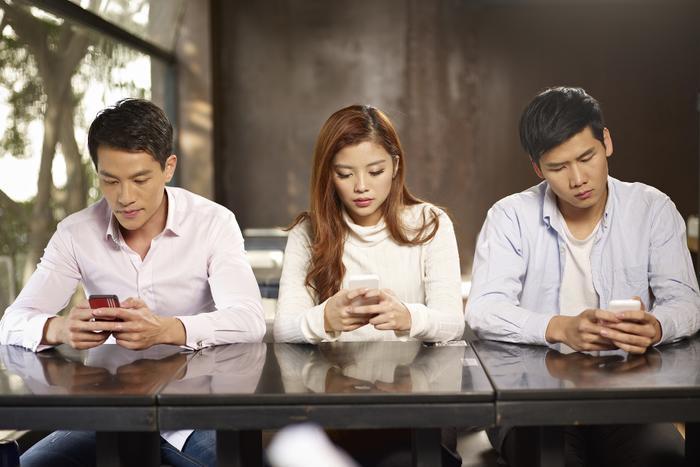 It's not exactly news that consumers are increasingly dependent upon their mobile devices. One only has to observe people in restaurants, movie theaters and walking down the street to know that.
But a survey conducted by Bank of America is a bit surprising, in that nearly half the consumers questioned confessed they probably couldn't go a day without their smartphone.
Many of the respondents said their mobile device was more important than other things they probably couldn't do without, like coffee and television.
The survey found that connectivity on the go is so critical the smartphone falls below only the Internet and personal hygiene when ranked by importance to people's daily lives. To put it in context, 91% said their mobile phone is just as important as their car and deodorant.
When asked what they would give up to regain access to their mobile phone, nearly 4 in 5 – 79% – said they would forgo alcohol or chocolate.
Sudden dependence
How did this dependence develop so quickly? Remember, these devices for the most part didn't even exist before 2007. Perhaps for that reason, the survey found that the youngest Millennials, between the ages of 18 and 24 and who don't really recall a time before smartphones, are most dependent.
Bank of America is interested in this topic because it, like all banks, is actively encouraging customers to use mobile banking services. On that point its survey did not disappoint.
"Mobile phones have changed the way we live our daily lives, and that extends to our finances," said Marc Warshawsky, senior vice president and mobile solutions executive at Bank of America. "Bank of America now has more than 15 million active mobile banking users who access their accounts on a mobile device over 165 million times per month. We've seen this number continue to grow and recently the number of monthly mobile banking logins surpassed online banking logins for the first time."
Addiction?
Not everyone sees consumers' near-obsession with their smartphones as a positive trend. Dr. Ira Hyman, a professor of psychology at Western Washington University, writes in Psychology Today that being dependent on your device is one thing, but if you are unable to control your use of it, that dependence has crossed over to addiction.
He describes an experiment in which college students were asked to imagine receiving a text from a friend, asking for a reply "when you can." The students could immediately text back or, if they waited for a period of time before replying, they would receive a cash reward.
"Most students wanted to text now and pass on the extra money that would come with waiting," Hyman writes. "Texting immediately was more important than extra money."
College professors will tell you it is impossible to get students to put away their smartphones in class. When these students get jobs and join the workforce, this addiction then becomes their employers' problem.
Why fight it?
A researcher at Kansas State University suggests businesses give in to the inevitable and encourage employees to take short breaks during the day to check Facebook or play a game. Sooyeol Kim, doctoral student in psychological sciences, found that allowing employees to take smartphone microbreaks may be a benefit — rather than a disruption — for businesses.
By studying 72 full-time workers from various industries, Kim said he discovered that employees only spend an average of 22 minutes out of an eight-hour workday playing on their smartphones. He also found that employees who take smartphone breaks throughout the day are happier at the end of the workday.
"A smartphone microbreak can be beneficial for both the employee and the organization," Kim said.
---