---

Consumers loosened up their purse strings a bit last month.
The Commerce Department reports personal consumption expenditures (PCE) increased by $53.5 billion, or 0.4%. Personal income, by the way, also rose -- $37.1 billion, or 0.2% -- and disposable personal income (DPI), what you have left after the government gets its cut, was up by $33.9 billion, or 0.2%.
Compensation, spending, and saving
Most of the income increase came from a rise of $14.7 billion in wages and salaries, well below $40.4 billion advance in April. Private wages and salaries were up $11.8 billion, while government wages and salaries inched up $2.9 billion.
Personal outlays, which is made up of PCE, personal interest payments, and personal current transfer payments, rose just $57.0 billion in May, after a surge of $144.6 billion in April.
Personal saving -- DPI less personal outlays -- was $730.6 billion last month, pushing the personal saving rate down 0.1% to 5.3%.
The complete report is available on the Commerce Department website.

After falling sharply in the preceding week, first time applications for state unemployment benefits jumped a bit in the week ending June 25.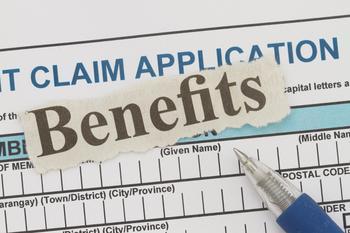 Jobless claims
The Department of Labor (DOL) reports initial jobless applications rose by 10,000 to a seasonally adjusted 268,000. The previous week's level was revised down by 1,000.
It's now 69 consecutive weeks that the initial claims level has been below 300,000 -- the longest streak since 1973.
The four-week moving average, considered a more accurate gauge of the labor market as it lacks the weekly tally's volatility, was unchanged from the previous week at 266,750.
The full report may be found on the DOL website.
---