---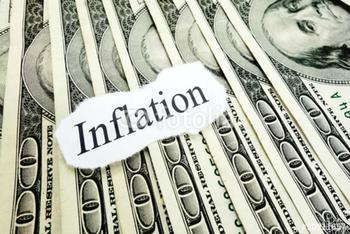 A big jump in the cost of gasoline helped send the cost of living up in April at the fastest clip in three years.
The Department of Labor (DOL) reports its Consumer Price Index (CPI) increased a seasonally adjusted 0.4% last month and is up 1.1% over the last 12 months.
Energy and food costs on the rise
An 8.1% increase in the cost of gasoline helped push overall energy prices up 3.4% last month. Also on the rise were the cost of fuel oil (+1.9) and natural gas (+0.6). Electricity prices dipped 0.3%. Despite the big April increase, energy costs are down 8.9% over the past year, led by gasoline which has plunged 13.8%.
Food prices inched up 0.2% last month with the food at home category, a reflection of grocery store prices, advancing just 0.1%. The cost of dairy and related products rose 0.4%, while cereals & bakery products and nonalcoholic beverages both increased 0.3%. The largest of the increases came in the "other food at home" group, which jumped 0.5 percent. Fruits and vegetables were lower (-0.5%), as were meats, poultry, fish, and eggs (-0.1%). In the past 12 months, food prices are up 0.9%.
Core inflation
The core rate of inflation, which excludes the volatile energy and food categories, rose 0.2% in April, with prices for shelter, medical care, motor vehicle insurance, airline fares, recreation, and education up 0.3%. Costs for household furnishings and operations, apparel, new vehicles, used cars and trucks, and communication were lower. Over the last 12 months, the core rate is up 1.1%.
The complete April CPI report is available on the DOL website.
---