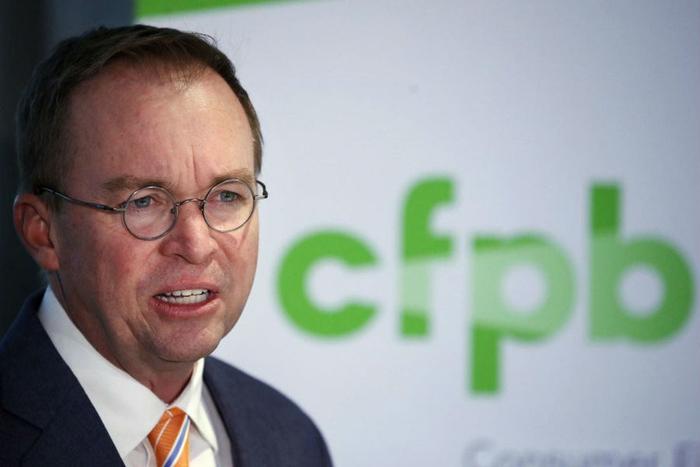 President Trump's newly-appointed chief of staff, Mick Mulvaney, has been asked to update a congressional committee about his efforts to rehab the Consumer Financial Protection Bureau (CFPB).
Representative Maxine Waters, who will chair the House Financial Services Committee come 2019, said she expects his "full and complete cooperation" as the panel reviews the work of the Consumer Financial Protection Bureau (CFPB), according to Reuters.
The consumer bureau, born out of the 2010 Dodd-Frank law -- legislation passed in 2010 in response to the financial crisis of 2008 -- has been a punching bag for Republicans, who criticize the agency for being too broad, having too much power, and whose authority needs to come under White House and Congress' control.
At present, the CFPB is an independent agency and its jurisdiction includes banks, credit unions, securities firms, payday lenders, mortgage-servicing operations, foreclosure relief services, debt collectors and other financial companies operating in the United States.
Earlier this year, Mulvaney, in his agency's report to Congress, advocated major changes at the agency, all of which would limit its authority and independence.
The first thing Mulvaney asked for was Congress to control the CFPB's funding away from the Federal Reserve, a provision designed to shield the consumer protection agency from political pressure. Mulvaney also proposed that Congress appoint a CFPB inspector general to answer complaints about the bureau, and he said Congress should give itself the power to finalize all bureau rules.
Mr. Mulvaney, meet Ms. Waters...
Mulvaney may have met his match in Maxine Waters. In the wake of Hurricane Harvey, the California congresswoman led a bipartisan effort asking FEMA to place more of a burden on insurers, many of whom, the lawmaker said, "were underpaying or outright denying legitimate flood insurance claims."
Back in 2017, Waters also led the fight in banning forced arbitration clauses in contracts for consumer financial products -- a rule ensuring that consumers do not have to sign away their legal rights in order to open a bank account, get a credit card, finance a car, or secure a private student loan.
"The rule is very important because consumers who are cheated by financial institutions and who are then forced into closed-door arbitration receive more compensation than they would've received if they had had the opportunity to have their day in court," Waters wrote in remarks about her efforts.
"Forced arbitration benefits large corporations and Wall Street banks to the detriment of consumers. For example, Wells Fargo continues to use forced arbitration to prevent consumers from pursuing class action lawsuits against the bank for opening millions of fraudulent accounts using their personal information."
When Republicans pushed through The Financial Choice Act of 2017 -- legislation that scrapped much of Dodd-Frank -- Waters railed against it, dubbing it the "Wrong Choice Act" and calling it the "latest in a wave of Republican attacks on financial regulation and consumer protection. Now, they are moving to snatch away legal rights from consumers."