---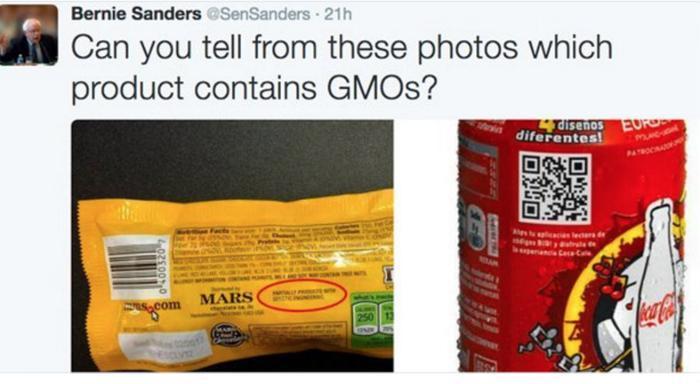 Congress normally dawdles around all session, doing next to nothing. Now and then, someone tries to do something and those on the other side of the aisle move quickly to block it.
But now and then, Congress can really get its act together and go to work for the people who pay the bills. Taxpayers? Don't be silly. We're talking about campaign contributors.
The House today voted 306-117 -- after virtually none of the usual time-filling blather disguised as debate -- to rubber-stamp a Senate measure that overturns that pesky Vermont law that requires food manufacturers to label products that have been genetically engineered.
President Obama is expected to sign the measure, Bloomberg quoted White House spokeswoman Katie Hill as saying. 
"While there is broad consensus that foods from genetically engineered crops are safe, we appreciate the bipartisan effort to address consumers' interest in knowing more about their food, including whether it includes ingredients from genetically engineered crops," Hill said.
The bill, of course, helps consumers know "more about their food" only if they have a smartphone and access to the internet. Having them will allow them to read the bar codes that will replace the plain English labels required by the Vermont law.
$2.1 million
The industry-engineered bill -- S. 764 -- was cobbled together by Sen. Pat Roberts (R-Kan.) and Sen. Debbie Stabenow (D-Mich.) — who have received a total of more than $2.1 million in campaign contributions this cycle from agribusiness donors. It passed the Senate 63-30 after Senate Majority Leader Mitch McConnell fast-tracked it to avoid hearings, committee mark-ups, and so forth, simply copying and pasting the measure into another bill.
Roberts and Stabenow call it a "compromise" measure. It eliminates the Vermont requirement that genetically engineered or modified foods have English-language labels identifying them as such and instead requires the information to be included in a bar code or other electronic or digital medium when it finally takes effect, some years from now.
The party line -- adopted by both parties -- is that the bill creates a "national labeling standard," another way of saying that it prohibits states from adopting their own standards. 
Farmers first
"I'm pleased that Members of the House today sided with sound science and the American farmer," said Sen. Roberts. "I am proud this work brought together the largest coalition of agriculture and food groups ever. Over 1,000 organizations joined me in putting the farmer and rancher first."
It was actually companies like Monsanto and Wal-Mart that provided most of the fuel that lit a fire under Roberts and his colleagues, although farm groups like the National Corn Growers Association were along for the ride.
Consumer groups denounced the measure, but with little effect.
"This bill is a travesty, an undemocratic and discriminatory bill which preempts state laws, while offering no meaningful labeling for GMOs," said Dana Perls, senior food and technology campaigner for Friends of the Earth.
Sen. Jeff Merkley (D-Ore.) said the measure makes it virtually impossible for ordinary consumers to access information about genetically modified ingredients in their food.
"How can you have a so-called 'mandatory GMO labeling bill' that doesn't require on-package labels, doesn't cover the most common GMO products, and doesn't mandate a single consequence for companies that don't comply? The answer is you can't," Merkley said. "It is a special-interest assault that takes away consumers' right to know about GMO ingredients in their food."
---