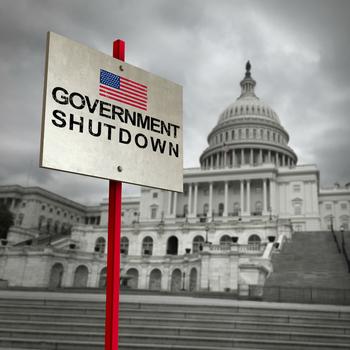 The U.S. Government is threatening another shutdown and Congress is going through all the government's coffers looking for the funds to avert it and prevent consumers from suffering any consequences from a closure.
It's not like Congress doesn't have enough on its hands with hurricane Florence, tariffs, vetting a Supreme Court nominee, and a looming mid-term election. But if the Democrats and Republicans can't find a way to appropriate $1.24 trillion by midnight on September 30, the cupboards will be officially bare. At that point, the options are two: 1) shutter every service and agency short of the ones considered vital; or, 2) trim operations back as far as possible.
This is the second time in 2018 that the Government may be forced to close down. In all but four of the last 40 years, Congress has passed continuing resolutions (CR) to keep agencies running between budgets.
In January, Congress was so wrapped up in the tug-of-war over Deferred Action for Childhood Arrivals (DACA) and the funding of President Trump's border wall that it ran out of time to pass legislation funding operations and agencies sufficiently to keep the doors open.
The border wall is impeding things again. While that may have little to do with Congress itself, Trump has dared to shut down the country more than seven times in the last six weeks if Congress doesn't cough up the $5 billion he wants to kickstart the border wall project.
Pulling out all stops
With House members only working six more days in September before they go home to campaign for re-election, Republican party leaders are pessimistic about pulling off Trump's wall wish by the shutdown deadline. They're doing their best to get the President to calm his urges and wait until the November election when they'll have more time.
Nonetheless, Congress is working feverishly -- and cooperatively -- to keep the country afloat. The Senate voted 92-5 on Wednesday to approve a $147 billion package to fund military veterans' programs, the Department of Energy, and the legislative branch. The bill is now in the House's hands, which is doing its best to drag it across the finish line by the end of the day, Thursday.
While $147 billion is a nice start, there are still two other spending packages in the wings that Congress needs to approve to avoid a government shutdown. If all three packages are ratified by both chambers and signed by President Trump, they would add up to nearly 90 percent of the federal government's annual spending.
The only thing left at that point will be coming up with some form of a financial band-aid for the Department of Homeland Security which is in charge of -- you guessed it -- Trump's border wall.