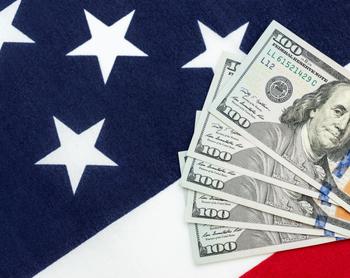 In a rare show of bipartisan cooperation, lawmakers in Washington have proposed a $1.3 trillion budget bill that would fund the government through September.
Passage before Friday at midnight would head off a government shutdown.
The measure is designed to please both Republicans and Democrats. It contains additional spending on the military but also boosts domestic spending.
'Adults in the room'
Some conservative Republicans in the House oppose the measure because it adds to the deficit. Rep. Mark Walker (R-N.C.) is leading the opposition, saying Washington must be more fiscally responsible.
"We have to be the adults in the room," Walker said. "We have funding requests by the billions every single week – Republicans and Democrats – but someone has to step up. Republicans have to step up to be able to bend this back."
But Rep. Rodney Frelinghuysen (R-N.J.), Chairman of the House Appropriations Committee, supports the spending bill, noting that it adheres to the recently enacted budget "caps" agreement while providing an additional $80 billion for the Pentagon.
The measure also provides funding to counter a growing opioid abuse epidemic, promote school safety and mental health, and improve infrastructure.
'Negotiated in good faith'
"This Omnibus Appropriations bill represents thousands of hours of work, consideration, and input by Members of Congress," Frelinghuysen said. "These 12 bills were considered and amended in committee and on the House floor in an open and inclusive process last year, and have been negotiated in good faith by committee leaders, House and Senate Leadership on both sides of the aisle, and the White House."
In the Senate, the measure has the backing of many Democrats, including Senate Minority Leader Charles Schumer (D-N.Y.), who praised the bill's increased funding for opioid treatment and rural broadband.
Should the bill pass both the House and Senate, as expected, the White House has indicated President Trump will sign it.