---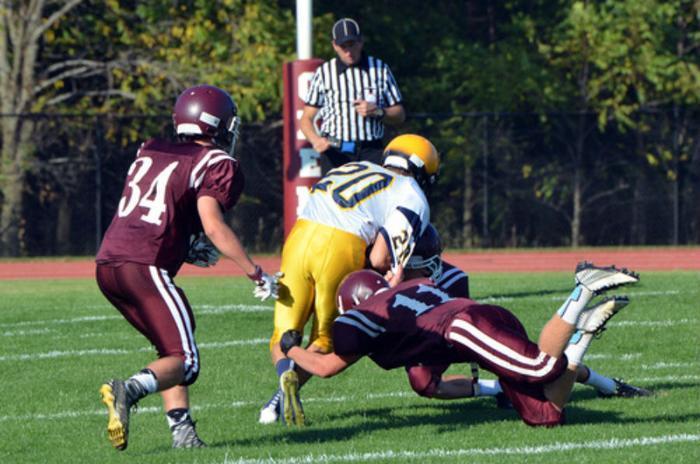 The link between concussions and high-impact sports like football is becoming, leading to growing concerns at the professional level, not only over the health of players currently in the game but also for those who have already retired.
In a recent study from Boston University (BU), researchers examined the brains of deceased NFL players and found that 90 out of 94 (95.7%) of them showed signs of chronic traumatic encephalopathy (CTE). CTE is a progressive degenerative brain disease that is most commonly found in individuals who have sustained multiple concussions and other types of brain trauma.
According to the CTE Center at BU, these repetitive trauma incidents can wear away brain tissue and cause a protein called tau to build up in the brain, a substance that has been linked to dementia symptoms in Alzheimer's patients. These changes may take effect months, or even years, after injuries have been sustained, but they have been associated with issues such as memory loss, confusion, impaired judgment, impulse control problems, aggression, depression, and progressive dementia.
Serious issue at all levels
Detractors may point out that these trauma incidents are bound to happen at the professional level since these athletes compete and practice on a consistent basis over the course of many years. However, studies show that changes in the brain can happen over much shorter periods of time and at much lower levels of competition.
A study published in 2014, which was presented at the 82nd Annual Scientific Meeting of the American Association of Neurological Surgeons, found that it took as little as one year of playing high school football for brain changes to be observable.
For the study, 45 high school football players were given an MRI before the start of their season and after it was over. During the season, researchers utilized the Head Impact Telemetry System (HITS) to record the total number of impacts and the risk weighted cumulative exposure (RWE) for each player.
After examining all of the data, researchers noted that there were measurable brain changes that indicated signs of mild traumatic brain injury (mTBI). Perhaps the most prominent finding of the study was that these brain changes were evident despite other clinical findings or reported concussions.
Repeated findings
While one study does not prove a causal link, this research added to the growing amount of literature that seeks to connect brain injury and illness with high contact sports. A more recent study published in the Journal of Neurotrauma attempts to do the same thing.
Using a similar methodology to the previous study, researchers from the UT Southwestern Medical Center collected data from high school football players who wore specially designed helmets that recorded impacts from practice and games. Players were also given multiple MRIs and took additional cognitive tests to measure changes before and after the football season.
While members of the research team admit that their results would need to be validated by further study, their conclusions are strikingly similar to the previously mentioned study.
"Our findings add to a growing body of literature demonstrating that a single season of contact sports can result in brain changes regardless of clinical findings or concussion diagnosis," said Dr. Joseph Maldjian, senior author of the study.
Taking crucial steps
While the results may seem repetitive or contrived to some, the researchers recognize that these tests and studies may be a crucial step towards fixing a major problem.
"Studies like this are important to understand how and where long-term damage might be occurring, so that we can then take the necessary steps to prevent it," said Dr. Elizabeth Davenport, first author of the study.
Thanks
Keep an eye on your inbox, the lastest consumer news is on it's way!
Unsubscribe easily whenever you want
---