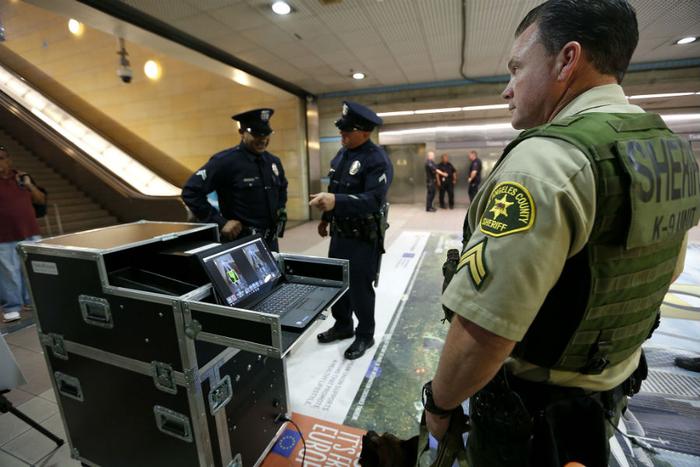 An international defense contractor that hopes to expand into the United States just landed an important new customer: the public transit system in  the second largest city in the country.
In a press conference on Monday, the Los Angeles Metro announced that it will be the first public transit agency to use body scanners operated by a firm called ThruVision.
L.A. Metro was encouraged by the Transportation Security Administration (TSA) to buy the machines.
"TSA applauds the leadership of L.A. Metro for its proactive efforts to evaluate, procure, and use state-of-the-art technology designed to detect potential threats to the transit system," the TSA said in an announcement.  
Different from other TSA machines, officials claim
Despite the TSA's involvement, L.A. public transit officials assured riders that the machines will have little in common with the controversial body scanners (operated by a different TSA contractor) that have become ubiquitous at every airport in the United States.
L.A. Metro officials claim that ThruVision's devices, which are portable and can be used remotely, can screen 2,000 people at a time without revealing anatomical details. The machines also do not emit any radiation, officials say.
"When an object is hidden in clothing or strapped to a person, these waves are blocked and detected by the system's software," Los Angeles Metro said in a news release.
Above the belt or under the pocket
The technology is capable of detecting any objects that are hidden underneath clothes, Kevin Gramer, the company's Vice President of Operations in the Americas, tells ConsumerAffairs.
Gramer says that only objects hidden in waistbands or underneath pant pockets would be likely to attract attention from mass transit officers.
"If there's something unique, it may present some kind of questioning from an officer," Gramer tells ConsumerAffairs.
For instance, "if you decided to carry your iPad in your waistband...we would see the iPad, and the iPad, I would say, would cause somebody concern."
"But people generally don't carry their iPads in that area," Gramer adds.
ThruVision also has corporate and border agency clients that use the technology to screen people for cash, drugs, or stolen retail, among other items. But L..A. Metro says that the technology in this case will only be used to search for terror threats.
"This particular technology is specifically screening for objects that potentially create mass casualty," L.A. Metro spokesman David Sotero tells ConsumerAffairs. "So it screens for metallic and non-metallic objects that are strapped to a person."
Who is ThruVision?
ThruVision began promoting portable devices with the ability to see through clothes without revealing anatomical details nearly a decade ago. The company promised that its "passive object detection" software would eventually be less intrusive and much faster than the traditional scanners used at airport security.
Rather than inspecting each person passing through security individually, an officer using the software can remotely screen numerous people at the same time, according to the company's promotional material.
ThruVision's former parent company, a British firm called Digital Barriers, has described itself as a leader in the facial recognition market. That company claims to be the first to have invented body cameras for police officers that have facial recognition capabilities.
Still, Digital Barriers said that sales were disappointing in 2017, so it decided to separate into two companies.
From anti-terror to catching theft
Its "people-screening business," as the company characterized the ThruVision division, began to show promise outside of the anti-terrorism market last year.
In its 2017 annual report, Digital Barriers described how ThruVision machines could also be used to find cash, drugs, or stolen retail. Such capabilities meant that ThruVision could market its machines for other purposes besides combating terrorism.
"ThruVision was originally developed for the counter-terrorism market but has now also demonstrated applicability in other markets, namely customs applications (to prevent cash and narcotics smuggling) and loss-prevention (to prevent theft from warehouses)," the company's annual report from last year said.
That marketing strategy appeared to be a success. This year, the company says it has turned things around. In its 2018 annual report, ThruVision announced that it sold a record amount of scanners -- thanks to the TSA's help.
ThruVision recently passed a round of TSA tests, the firm said, helping it land business in Saudi Arabia.
"By volume, our biggest sales came from a new customer in Saudi Arabia, attracted by TSA publicity," ThruVision said.
The machines sell for roughly $100,000 each, Gramer tells ConsumerAffairs. He declined to say how many ThruVision machines were sold to L.A. Metro.  
In the private sector, ThruVision now claims that its technology has cut employee theft by as much as 80 percent. It now counts Sony and JD Sport among private clients that use the scanners to look for stolen inventory hidden on employees.
"We call that a virtual pat-down," Gramer says of the anti-theft technology.
Firm says tech will be used differently in subway stations
As for mass transit, the scanners are also currently getting tested by the New York City MTA, though that agency has not yet indicated whether it will purchase the technology.
In Los Angeles, riders have already voiced concerns online that the machines would lead to profiling or arrests of people for non-violent claims.
However, Gramer says the "pocket clutter" that the company's private sector clients look for is unlikely to interest police officers working at subway stations.
As far as subway stations go, "anything that's above the waist or below the pocket clutter is going to cause concern for an officer to look at," Gramer says.
L.A. Metro has not yet disclosed when the technology will officially roll out. A local CBS news report only indicates that it will happen sometime in the coming months.
Sotero, the L.A. Metro spokesman, tells ConsumerAffairs that passengers will not miss their trains or be stopped in order for the technology to work.
"They won't be delayed in catching their transit service," Sotero says.
And as for concerns that the technology could be used to combat low-level crimes like petty theft, Sotero says that "what you're describing is not what this technology is intended to be used for."