---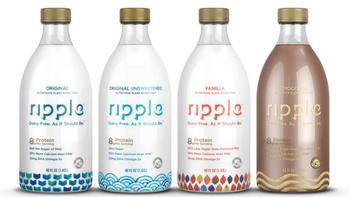 Consumers have become less interested in cow's milk over the last few years, opting instead for milk alternatives like almond or soy.
Milk alternatives may have netted the interest of the eco-conscious and those with certain dietary restrictions, but almond milk and other milk alternatives aren't quite as sustainable as one might think.
But soon, a more sustainable -- and even healthier -- type of milk will be joining the ranks of milk alternatives. Beginning May 2, consumers can find pea milk at their local Whole Foods (later, at Target and other retailers).  
Developed by Neil Renninger, PhD and Adam Lowry, pea milk may be an answer to the unsustainability of milk.
Small carbon footprint
The pea-based milk -- called Ripple, for its intended "ripple effect" of environmental benefits -- boasts larger quantities of protein and a 93% smaller carbon footprint than dairy milk. The process of making it is much kinder to the environment compared to almond milk.
A single almond requires 1.1 gallons of water to grow, according to Mother Jones. Almonds also require a good bit of fertilization and irrigation, which isn't especially good for the drought-stricken regions of California where they're grown. Peas, on the other hand, don't demand much special treatment.
According to Ripple, the process of making pea milk requires 96% less water than almond milk, 99% less than dairy milk, and 76% less than soy milk.
Ripple's pea milk is also protein-rich, boasting eight grams of protein per glass -- the same as dairy milk. It triumphs over dairy milk in other ways, however. Ripple's milk contains one third less saturated fat and 50% more calcium than dairy milk, as well as more potassium and vitamin D.
No pea taste
For anyone considering giving pea-based milk a chance, the name might be the biggest hurdle. But, actually, it tastes nothing like peas -- a feat that Lowry says was a challenge.
It took a year for the company to come up with a process of coaxing out a neutral-tasting protein that still retained the impressive nutritional content of peas.
"The primary challenge is one of flavor," Lowry told FoodNavigator-USA. "If you just make pea milk the way that you make almond milk, with regular yellow peas, you can get a very high protein beverage, but it frankly tastes terrible." 
The answer to this dilemma? A soon-to-be-patented process that "separates the good stuff from the peas from all of the stuff that kind of gives it that off-flavor and color." At the end of the process, you're left with milk that has all the pea protein without that distinctive pea taste.
Ripple will come in chocolate, vanilla, and unsweetened flavors. It will retail for $4.99 for a 48-ounce bottle.
---