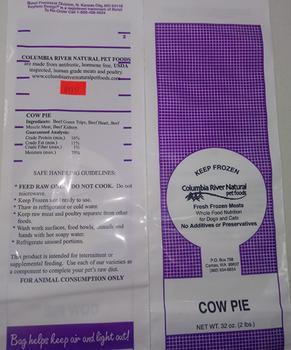 Columbia River Natural Pet Foods of Vancouver, Wash., is recalling 1,191 packages of Cow Pie and 82 packages of Chicken & Vegetables fresh frozen meats for dogs and cats.
The products may be contaminated with Salmonella and Listeria monocytogenes.
No illnesses have been reported to date.
Salmonella and Listeria monocytogenes can affect animals eating the products and there is risk to humans from handling contaminated pet products, especially if they have not thoroughly washed their hands after having contact with the products or any surfaces exposed to these products.
Cow Pie and Chicken & Vegetables are fresh frozen meat products intended to feed raw to dogs and cats. The Cow Pie product comes in frozen 2-lbs. purple and white plastic bags with the lot number found on an orange sticker. The Chicken & Vegetables product comes in frozen 2-lbs. turquoise and white plastic bags with Lot # 111518 found on an orange sticker.
Both products were distributed in Alaska, Oregon and Washington through retail stores and direct delivery.
What to do
Customers who purchased the recalled products should discontinue use of them and return them for a full refund or exchange by bringing the product in its original packaging to place of purchase.
Consumers with questions may contact the company at (360) 834-6854 Monday – Friday from 8am-4pm (PST).